Challenge: Joby Energy was in the process of developing a visionary, high-altitude wind generation technology. The company was at a critical stage in its development. Founder and CEO JoeBen Bevirt sought government support for his cutting-edge technology, which requires restricted airspace within which to operate.
Joby Energy chose Tigercomm to help it educate federal legislators and regulatory agency officials about the game-changing energy potential of high-altitude wind.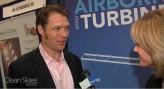 JoeBen Bevirt Interviewed at the ARPA-E Summit
Tigercomm responded by:
Mapping the universe of government officials critical to the company's success. Selecting and coordinating the work of a specialist government regulations firm to further Joby Energy's business objectives


Developing the communications and legislative plan to engage those policy makers


Securing and staffing three briefing tours for JoeBen with decision makers at influential national media outlets, trade publications and research institutions – such as the Electric Power Research Institute


Preparing JoeBen for a presentation before the U.S. House Renewable Energy & Energy Efficiency Caucus, including review of a slide deck and handouts to ensure message consistency


Reviewing and developing web content, while providing support and counsel in expanding the company's online presence
Results:
JoeBen was interviewed by CleanSkiesTV, and Joby Energy's technology was mentioned in an E&E News' ClimateWire story on the airborne wind industry, among other relevant trade publications. We also arranged face-to-face meetings with leading national energy outlets including Platts and The Energy Daily to build awareness of the company and its technology.
"Tigercomm understands how to harness a company's assets to help it scale. They took the time to deeply understand my business, then crafted a message and a smart strategy focusing our communications on the audiences critical to our success."- JoeBen Bevirt, Joby Energy Founder and CEO