Challenge:
Our client wanted to build brand awareness and loyalty in the Unite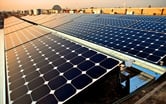 d States market. To maximize Return On Investment, our client tasked Tigercomm with creating and executing a plan to: Promote awareness of our client's core values, engage potential commercial or utility-scale customers, and drive traffic to the our client's website.
---
Solution:
We worked with our client to build robust social media programming for LinkedIn, Twitter and Facebook. We published a blend of client-specific content, thought leadership pieces and industry news of interest.
We also conceived and executed an influencer engagement program designed to raise awareness of our client among large clean energy customers.
---
Results (6-month time-frame):
Generated more than 1,448,398 impressions across all platforms
Social content generated more than 4,100 page views of USA-relevant sections on the client website
Social content generated 1,854 page views of the client blog – more than 54% of ALL blog page views
Identified and monitored 100 large-scale potential customers:

Reached out to this group of prospects more than 40 times
The firms have responded, confirming that our messages are being received and read

Customer service: Assisted more than 40 unique individuals who contacted the corporate Facebook page
---