We're proud to have hosted the editors of six leading clean economy news sites last month. It was the first time they'd convened to discuss trends in the sectors they cover. In our most recent post, we summarized trends the editors followed pre-pandemic and their predictions for how clean economy companies emerge post-pandemic.
However, the panel also focused on the emerging business model for utilities. That topic has received attention from Vox's David Roberts (here and here), former FERC Chairman Jon Wellinghoff and Stanford's Mark Jacobson, to name a few.
The picture that emerges from these analyses is a utility model in transition. Utilities developed in a relatively static business environment of long-term contracts, regulatory predictability and guaranteed returns. I'll call it "The Stability Era."
But utilities have now moved into what we'll call "The Dynamic Era," marked by fast-moving changes such as:
Cleaner, cheaper, more distributed generation
Emerging storage technologies
Software that can stabilize the grid
Growing imperatives to dramatically cut pollution
Direct corporate purchasing of clean energy to meet sustainability goals
ESG (Environmental, Social and Governance) investment approaches
This change is recent, and it's gone quickly. When we surveyed clean economy leadership three years ago, participants repeatedly raised the question of when utilities would adjust their relationship with renewable energy. Cleantech leaders saw utilities stuck in The Stability Era, with little interest in accommodating the market realities of renewables' public appeal and rapidly dropping costs.
In 2013, the utilities trade association, the Edison Electric Institute, had warned of a "death spiral" from homeowners going solar and selling the power they produce back to utilities. Utilities such as Arizona Public Service (APS) fought to impose taxes on solar homeowners.
Fast forward to today, and the picture is quite different. APS, under new leadership, has declared it won't spend ratepayer money to elect its own regulators – or fight solar any longer. Historically coal-heavy utilities such as AEP, DTE and Duke have made significant decarbonizing commitments. The number of coal plants is dwindling, and the need for gas as a "bridge fuel" has dropped. One of our clients, Chris Brown of Vestas, notched the largest single sale of wind turbines in world history – 2GW - to the privately owned utility, Berkshire Hathaway Energy.
To that mix of change drivers, our editors added electric vehicles (EVs). They see EVs as both cause and effect in changing utility business models in The Dynamic Era.
CleanTechnica's Zach Shahan: "I think [utilities] needed some time to see that it was really happening. They're obviously a cautious industry, but I think it's become clear that this is the future, and they want this to be the future. And so, they've been getting a lot more active and promoting it."
Utility Dive's Catherine Morehouse: "You're definitely seeing a reduction in demand for power from utilities, and I think utilities have long been looking at electric vehicles as a way to mitigate that loss [of revenue]. Now we are seeing that trend really accelerate, especially across utilities that are really relying on commercial and industrial loads."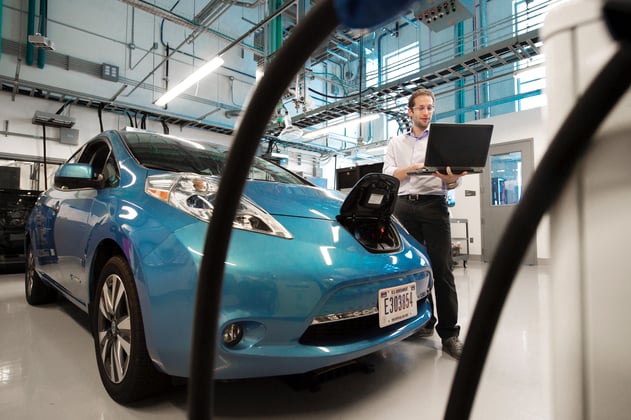 Heather Clancy of GreenBiz: EVs are "… pushing the utilities that way. National Grid is working with a lot of corporate-level customers to try to figure out what their EV charging infrastructure is going to be like." She noted Amazon's commitment to 100,000 EVs, a commitment that will drive the world's richest company to find sufficient charging infrastructure. "Even if it's not public, you see a lot of activity from businesses in trying to help utilities support those services."
SolarWakeUp's Yann Brandt: "There's this overnight effect that's going to happen in utility load systems. If tens of millions of people, or even millions of people, stop going to offices and start working from home, stop driving on roads, move to one car, there's all these fundamental societal shifts that are going to happen that we have no idea how that's going to impact [utilities]. If people aren't driving to commercial properties anymore, that's where we're assuming the daytime load was going to be, not in people's homes. That potentially is going to have a dramatic impact."
Recharge's Darius Snieckus, who lives and works from Europe: "A Swedish Utility signed a deal… where they're actually going to collaborate on delivering charging boxes to homes and premises. So, building that infrastructure into the stay-at-home world."
It seems safe to add EVs to the list of factors driving changes to how utilities are structured and operate. If you'd like to hear more from them on utility business models or EVs, or both, please let us know. As we noted in our last post, our editors have expressed an interest in convening again.
We'll be up with the last post in this series in the coming days.