A Climate Tech Journey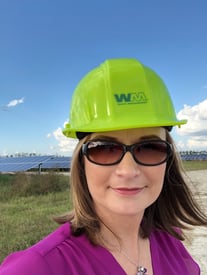 This week, I shift my career from "why" to "how." Let me explain.
My name's Melissa Baldwin, and as we announced today, Tigercomm's acquired the Florida-focused climate communication practice I've built for the last 10 years. I'm excited that after 17 years of spurring conversations about why we need clean energy in Florida – the state considered "ground zero" for climate impacts – now I'll be helping clean economy businesses nationwide.
Here's my journey: A college professor opens my eyes to the climate crisis. Graduate, spend two years at the global PR firm H+K. Feel called to devote myself full-time to solving this unprecedented global threat. Go to work for environmental nonprofits. Spend 10 years building the vertically positioned Chase Media Services, a boutique PR agency I named after my son. Get acquired by Mike Casey and the Tigercomm team.
The through-line? An exclusive focus on a climate action agenda, despite the desperation one can feel with the gap growing between what we're doing and what we need to be doing for our kids' futures.
I've been lobbying Florida's ethically challenged state legislature long enough to know what it feels like to bang my head against the wall. This influential state has the most to lose from climate change, and perhaps the most it can do to address it. And yet we have no RPS, no PPAs and weak energy efficiency initiatives. The list goes on, but you get the idea. And yes, I still hold out hope for Florida, which remains my home.
But it's the opportunity to work with the growing ranks of climate-focused Americans that has kept me motivated. At Chase Media, I got to work with eight gutsy kids who sued the state for infringing on their constitutional right to a stable climate. Admittedly a longshot, but work like that required being creative, nimble and opportunistic. It also taught me to be grateful for the chance to work with and promote the long-term interests of clients who have put their trust in me.
Take SELF, the Solar & Energy Loan Fund that achieved 393% growth in three years, offering micro-loans to "subprime" homeowners for resilient home repairs. Traditional banks had written off SELF's customers as "too risky." And yet, SELF has been able to make $17 million in loans with a less than 2% default rate because they looked past credit scores and focused on the customer's ability to pay.
Most recently, I helped found and grow Florida Clinicians for Climate Action from 20 doctors to 200+ health professionals. They're speaking out because they understand that climate solutions are health solutions. This group has taught me that health outcomes are more likely determined by your zip code than your DNA. Our work together has convinced me that developing equitable solutions is fundamental to the success of the clean economy.
All this means is that for the last 17 years, I've been talking about "why" we need to address the climate crisis. Why people should care. Why lawmakers need to act. Why it's an existential threat. But we're running out of time.
The latest IPCC report confirmed:
"The alarm bells are deafening… the solutions are clear. We need immediate action on energy."
With two children under the age of 10, that's enough of a clarion call for me to use what I've learned not just in my work, but from one of my biggest teachers. That was cancer.
On the eve of my 27th birthday, I was diagnosed with Hodgkin's lymphoma (Stage 2A). It felt then like the end of the world, but I was coached to face it one day at a time. Six months of chemo, three months of daily radiation, and yes, I went bald. I've been in remission for 13 years, but I live and work with a much keener appreciation of time and life's delicacy than I otherwise would have. And there have been direct professional upsides: After facing down cancer, I've found it's easier to be clinical and laser-focused in facing down an anti-clean energy lawmaker.
I'm done explaining why we need to solve this problem. I'm devoting myself to the people showing how it can be done.
At Tigercomm, we're out to show how thriving clean energy companies are driving innovations that will move our country and the world to a more sustainable foundation.
Leading the way are clients like Soluna, an energy storage solutions provider that is solving two problems at once: Eliminating wasted energy from solar and wind farms; and, ensuring that data centers are fueled with clean – not dirty – energy as computing's power needs grow.
Or Nextracker, the global leader in solar tracker technology that uses advanced system design to enable solar panels to harvest the maximum amount of sun, even on difficult terrain.
At my new firm, we say: "It takes an industry to beat an industry."
So, to quote Lin-Manuel Miranda's Hamilton, I say, "Let's go."