We are announcing today that Tigercomm has acquired Chase Media Services and that its principal, Melissa Baldwin, is joining us this week as senior vice president. This is our firm's first acquisition, and perhaps its biggest prize is Melissa. If we have our way, cleantechers will see a lot of her and her work in the years ahead.
Why Melissa and her firm? There are several reasons. First, she and Chase fit with our shop's 3D Rule: "No drama, no dysfunction and no dishonesty." Early in our discussions with Melissa, we were impressed with her humility, accountability and smarts. She's also life-wise beyond her years, which comes through in her companion post. Life wisdom makes a big difference in counseling hard-charging clean economy CEOs.
But the biggest reason is her origins. If you look around clean economy companies, there are actually few communicators with even 10 years' sector experience. As an industry, we're just too young. So, pretty much everyone communicating for clean economy companies is a recent immigrant from another sector.
Among them, I've found that people with heavy issue campaign experience (".org" work) are often making the biggest contribution to clean economy business communications (".com" work). I suspect that's because good .org work forces you to be scrappy, resourceful and highly creative.
Perhaps most importantly, these communicators don't take media and digital attention for granted. They know it has to be earned by making a company attention-worthy. Melissa's firm has had a foot in both .org and .com work.
I think of public relations as a skills ladder. You start your career executing what other people tell you to do. Over the years you work your way up to counseling company principals.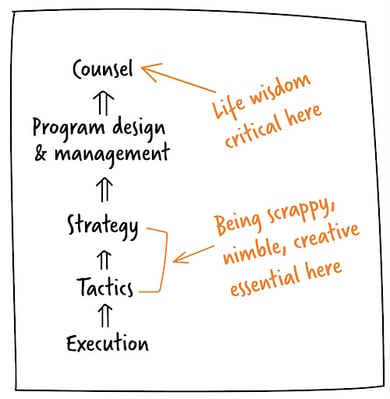 Our beloved and recently departed EVP, Mark Sokolove, left Karl Malone-size shoes to fill when he left for his killer new job at Hanwha Q Cells. I've been getting blisters trying to fill those shoes this summer, as we handled a growing client flow while negotiating this acquisition with Melissa.
But now she's joined us in making an impact by scaling the clean economy's climate solutions providers. We're pretty excited about Melissa's potential to make a difference, and we think the marketplace will see it the same way.
Welcome Melissa. We're glad you're getting your stripes this week.