This article was updated in March 2022 to reflect industry changes.
Why Should Cleantech Companies Invest In Social Media?
Spoiler alert: We've found that almost every wind energy company is using social media as a limited distribution platform. That's understandable, because social is great for distribution as the first, highly targeted yet far-reaching platform. And there's the lure of social media's lightning-in-a-bottle potential to "go viral," organically attracting massive numbers of eyeballs with only a modest initial investment.

Yet most wind company programs are leaving on the table the real potential for social media… targeted engagement. Social media is definitely cheap distribution, though for all but a few (like the Federal Reserve), a distribution-centric strategy can't hold audience attention. There's too much content and too many voices vying for a finite pool of people's attention.

The potential for long-term attention through social media lies in targeted engagement, with networks of people investing their time and attention in a company's products, policies and successes. But the engaged have to find value in engaging. And one of the surest value propositions is not just being responded to, but having impacts on brands, products and policies.

Many companies are already engaging – see ratings from Uber drivers and riders. The trend is underway elsewhere. You can accessorize the car model of your choice, and it's a sure bet that car companies are using the resulting data to time when customer online input will drive which decisions to make on which models. Others are on the threshold: with only half the daily newspaper reporters on staff as compared to 20 years ago, the news industry continues its financial slide because readers won't pay the full cost of professional reporting. It's being argued that news reporting's most viable path is having readers choose what gets reported in the first place. You get the idea.

The point is that value-add engagement is only secured through a two-way conversation that matters. The buzz phrase is "democratized ownership." It's rare right now in high-ticket B2B sales, though the potential value remains. However, those benefits will only be reaped through well-designed, intensively managed social engagement programs. They aren't cheap, but we see distribution-only tactics beginning to cost the wind industry more in opportunity than targeted engagement will require.
That's a challenge for wind industry marketers: how do we get in front of the new physics of business communications that demand real engagement, not just cheaper distribution with the occasional viral home run?
Using Social Media in the Sales Funnel
Social media alone can't do the sales for a company, but it can provide touch points all along the sales funnel. It can generate leads if it is used in an inbound marketing program that offers current and prospective customers useful insights through a well-run, dynamic website.
Used properly, cleantech social media can do even more: help with retention programs by giving customers a convenient way to provide invited feedback, or even drive engagement programs for communities considering whether to host a wind project.
All those types of social media activities will produce goal-focused metrics, as long as the program is integrated into your sales, public affairs, and renewable energy marketing strategy. Siloing off your social media efforts – so common in distribution-only programs – puts those benefits out of reach.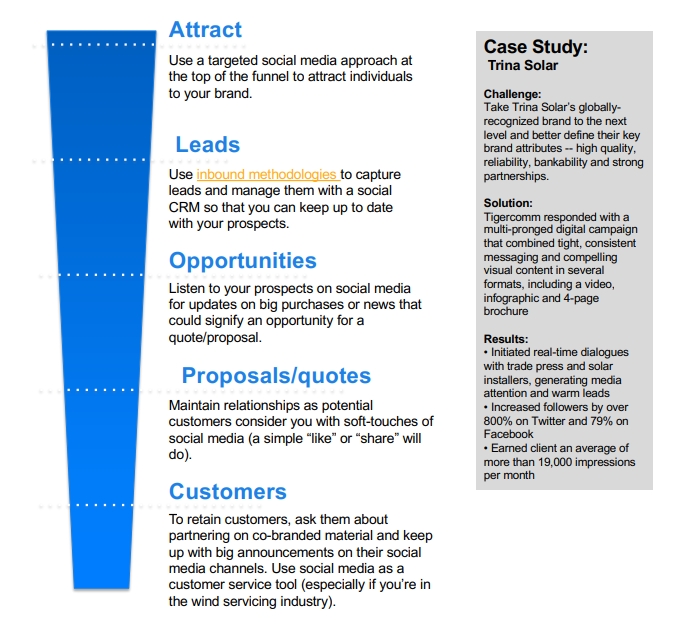 B2B Content Creation for Social Media Platforms
Social demands content. For wind companies, that means the kind of content that can build executive team credibility and a higher profile for executive team members. Wind's rapid growth is bringing an influx of both executive talent and increased use of smart data.
That means the industry is awash in the raw material for good social media content: Smart people who can say smart things that are useful to customers. By converting wind turbine performance data into infographics and short videos that customers will find interesting, it won't just provide fodder for social engagement. These can make ongoing thought leadership and media relations efforts a lot more effective. Social media can catalyze a practice of content creation that produces real economies of scale for marketing efforts.

Video boosts the open rate on any sort of pitch by 7-10%. That is why firms like ours use videos to pitch you.
Cleantech Media Relations Through Social Media
Media relations now require a social supplement. You're tired of people like us saying this, but we are in a "new normal" marketing environment of high noise and scarce attention. It's raised the bar for securing customer and investor attention to new business lines, acquisitions, or executive hires.
But most wind industry news is still "going out" in one-off press releases. Real traction with customers and investors gets earned through announcements amplified over a period of time and through a variety of channels. And there's no way to amplify without social, especially given reporters' increased reliance on it.

We hear from reporters every week who prefer to be pitched through Twitter, and who won't consider a story unless they find a company's social media stream compelling. And here's the big one: The chase for online ad dollars has more media outlets looking at the click rates for reporters' stories. Stories with viral potential – and sources who can drive amplification – are considered even more seriously.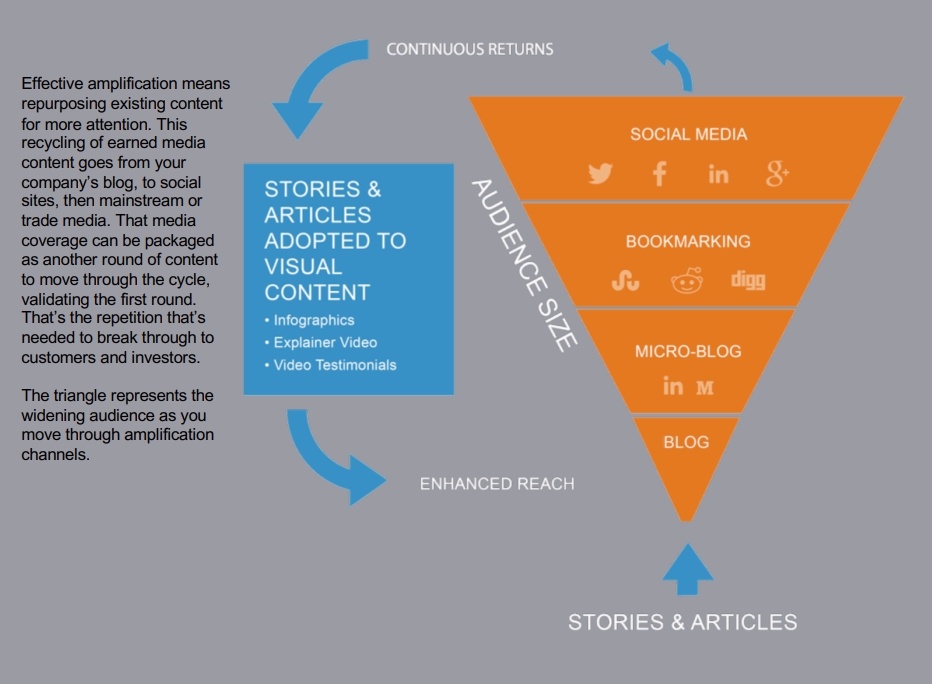 The Under Utilization of Social Media by Cleantech Companies
Here we explained how cleantech companies are using social media as a limited distribution platform.
Let's take a break from what we're recommending, and look at what wind companies are currently doing on social media.
We looked at a cross-section of the major players in the industry to index who was active on the major platforms in the last three months. We then measured the use and looked at trends we could see. For global or diversified companies, we only included channels that were dedicated to wind or renewables.
Here's are the highlights:
Uneven use of platforms – Companies are on platforms, particularly LinkedIn and Twitter.
Few companies should be active on every platform, but for an industry with visually impressive products, we are surprised by the number of companies without a designated, actively used YouTube channel.
We are posting at very slow rates across channels as an industry.
Videos are the most impactful social media content, but we use them the least of any form of content.
Our CEOs have 100% presence on LinkedIn, but very low usage of their profile as a thought leadership platform – arguably the easiest thought leadership connection to your professional network.
Though it's arguably the most important social media channel for B2B marketing, LinkedIn's data are unfortunately less available for measurement. We treat the platform more lightly in this book.
There is a 10-fold difference in who posts the most on social media.
Engagement rates vary widely, but they are low for most companies.
Here was our takeaway: The wind industry's members are on social media, they make irregular use of it, and almost strictly as a distribution channel. As a fast-growing disruptor with significant communication needs to customers, markets, and policymakers, wind energy is on the threshold of social media opportunity – if we choose to seize the moment.
Uneven Use Of Social Media Platforms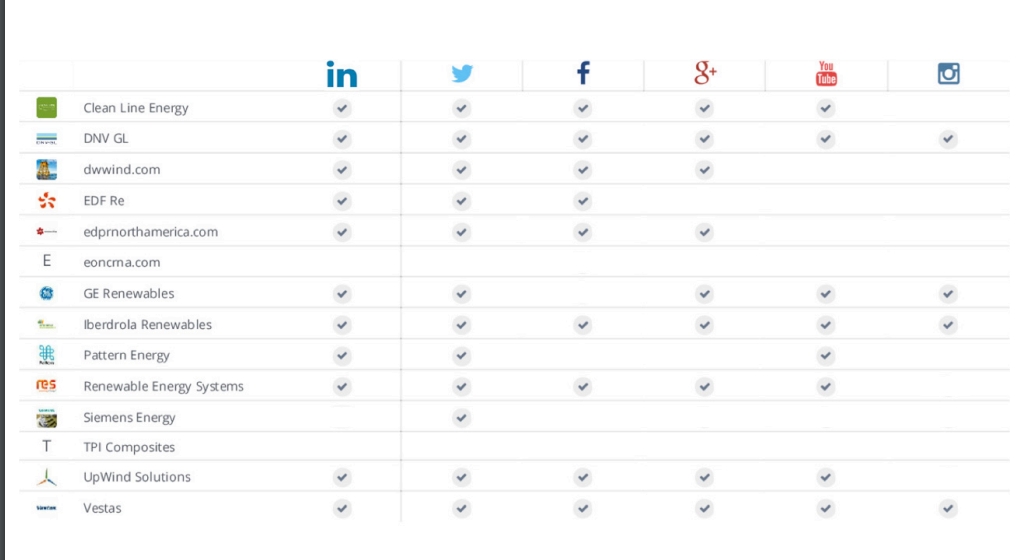 B2B Social Media Marketing Best Practices for Cleantech Companies
Targeted B2B Engagement with Clean Energy Customers
The body of best practices for B2B social engagement is pretty basic. And it's much lighter than for B2C companies. We've reviewed what's out there and summarized it for you here.
Invest In A Goal-Based Plan
Take time to think about your goals objectives, strategies, and tactics.
Build The Right Team
Gone are the days of interns posting on your behalf. This is now your public face – make sure you have the right team in place that knows your plan, voice, and how to effectively drive results on social media. Dedicating time and resources, along with investing in strategic planning, will go a long way towards ensuring you get the biggest value from your social media campaigns. If your company is new to social media – start slowly, build up your social machine one platform at a time, and ramp up activity as you grow. Test, analyze, and adjust your strategy as you go.
Select The Right Channels
When considering B2B programs, LinkedIn is traditionally the first choice – and with good reason. But it's worth taking the time to choose a customized mix of platforms from all those that are out there. Multiple platforms boost SEO. When you've chosen your channels, read up! Features vary significantly and they are advancing rapidly. For instance, some have higher concentrations of customers than others. Some allow more targeting of paid ads others. LinkedIn allows for targeting job titles and Facebook allows for targeting by interest.
Include Content Marketing
Create content to share on social media, such as blog articles, infographics, videos, etc. Clean energy content marketing should be an important part of your overall strategy. Simple advertising with no value benefit to your audience will get little traction. Instead, focus on compelling content that positions your brand as a thought leader and would be of interest to your customer personas. Include a simple and clear call to action.
Embrace Partner Amplification
Put the spotlight on your prospects or targets. Connect to all your partners and engage with them through likes, shares, comments, and replies. B2B social media is all about two-way engagement.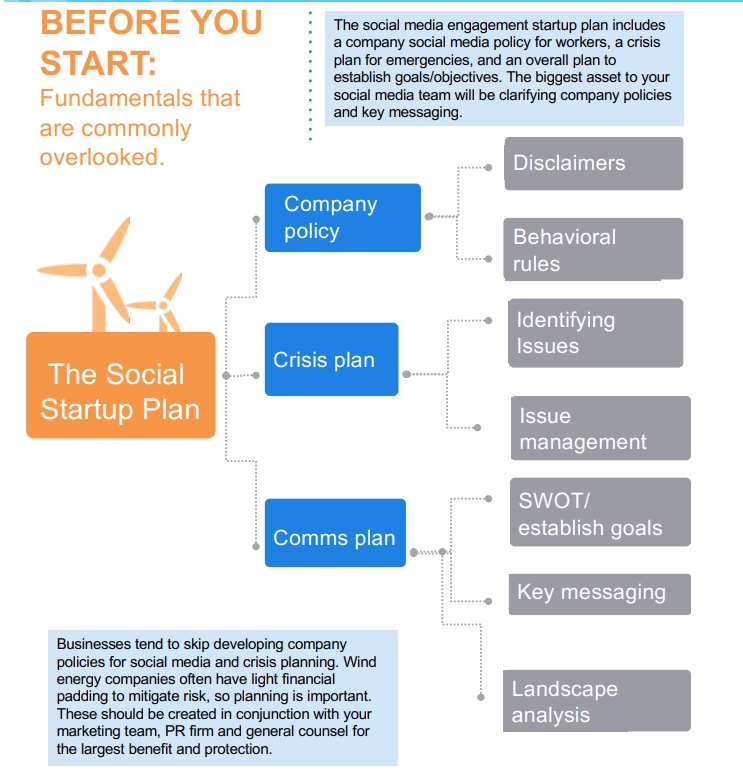 WORK BACKWARDS THROUGH THE CAUSAL CHAIN
1) Outcome: Identify business objectives, such as increasing sales or courting investors. Force prioritization, as social engagement programs look appreciably different depending on your choice.
2) Audience: Deeply profile members of your critical audience segments, including through their social media profiles. Start with LinkedIn and Twitter. Wind companies have no excuse to skip this step because the customer base is so defined.
3) Message: Identify the messaging that distinguishes your company's value proposition and resonates with your target audience. Determine the tone you'll take and how you'll respond to audience member's questions. Test phrasing, then analyze and leave enough room in your plan to adjust as you go.
4) Channels: Use that audience profiling work to determine where audience members are online to supplement the list of mainstream media they use. Remember, it's continuous, multi-channel communication of audience-relevant insights that gets and holds attention. Your company's media channels form the home base of engagement.
5) Messengers: It takes people to engage people, so who at your company will directly engage audiences?
You can download a checklist and PDF version of this article below.