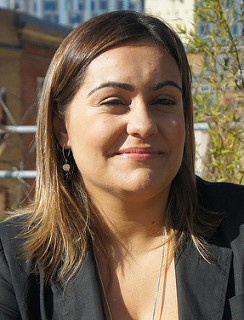 The following interview is with Belen Gallego, Founder & Director at CSP Today and PV Insider. Ms. Gallego is also in charge of CSP Today's range of conferences and trade shows, including the upcoming CSP Today 6th Concentrated Solar Thermal Power USA Conference, being held in Las Vegas beginning on June 27-28. For a helpful discussion of CSP, see the National Renewable Energy Laboratory's page on this topic. Also, thanks very much to Belen Gallego for taking time out of preparing for the upcoming conference to provide thorough, detailed responses to our questions!
Scaling Green Question #1: What do you see as the main opportunities and challenges – economic, political, technological, etc. - facing solar power generally, and Concentrated Solar Power (CSP) specifically, in the United States?
Belen Gallego: In order for the CSP industry to further develop, we need to look at resolving a few challenges for sure. Economic challenges aren't a rare occurrence at the moment, unfortunately. In fact, they affect most industries, as they are to a very large extent due to the world financial and economic situation. CSP is a proven, bankable technology, and in normal circumstances it would be possible to finance even large-scale projects.
The biggest technological challenge that we have right now is reducing costs. This is already well under way, as costs have dropped significantly over the past 6 years of plants in operation, although more remains to be done. We need to remember that the rate of cost reduction in CSP is very respectable compared to many other industries. If I remember correctly, 6 years ago we were talking about $4.50 per installed watt for PV and now we are at less than $1.00 per installed watt. This leapfrog type of development does happen, but it needs time and critical mass. Keep in mind that the PV industry had a history of 20+ years before CSP!
The political challenge, which is also a NIMBY challenge, that we face is communication. Renewable energy appeals to the end consumer, as well as to governments, and that appeal makes sense, because to avoid climate change and an uncertain energy outlook, we must develop the right technologies. However, as a niche industry, I believe that CSP isn't doing all we can to communicate the immense value that CSP has for grid stability, for example. It is by communicating the inherent value added of CSP that the technology's full potential and key role to play will be understood.
In the end, I feel that often the greatest challenge is to be patient. Infrastructure projects of this size and complexity take years to come to completion, and for the market to gain gravitas takes much longer. We have come a long way already, and sometimes we forget that the time scales involved makes it difficult as a speculative market. CSP development may be slower, but it is organic and sustainable. You just can't compare the CSP industry with the dotcom boom; it doesn't work like that.
Scaling Green Question #2: According to a recent article at CSP Today, "Growth in the Concentrated Solar Power (CSP) sector faltered last year as photovoltaic (PV) module prices dropped," but in the long run "CSP's ability to incorporate thermal storage and to supplement conventional power generation offers benefits beyond the value of the kilowatt-hours they generate." How do you see this situation evolving in coming years, and specifically do you believe that CSP will gain on PV in terms of cost competitiveness in the near term?
Belen Gallego: When people ask me this question, I like to compare the Spanish and U.S. markets because I feel that the Spain is a small case study of what will happen in a bigger market like the United States. In Spain, we have a very well-managed national grid, which is relatively modern. We built in 2008-2009 over 4GW of PV, as well as over 21GW of wind capacity as of 2012. The renewable energy electricity production share hovers around 20%. However, what is not widely known is that at certain times of the year, sometimes in the right conditions the share of energy produced from renewables can reach as high as 50%. That amount of peak power is difficult for the grid to integrate, to the extent that plants sometimes need to be disconnected, meaning that the energy is lost because the grid can´t absorb it. It is only a matter of time until the United States has this kind of peak power integration problem, and CSP with storage can really help manage this issue.
Scaling Green Question #3: Outside the United States, are there particular countries or regions of the world where you believe CSP has a particularly strong growth potential in coming years? Also, are there particular areas where you believe that CSP holds an inherent advantage over PV?
Belen Gallego: I think that utility-scale electricity generation is not the only option that CSP companies must explore when looking for new markets, because each of them are very different. For example, in India captive plants are a good way to go, but they have to generally be smaller. Chile is promising, especially for smaller plants to provide energy for mining. The most appropriate market that I can think of where CSP clearly holds an inherent advantage over PV is South Africa. As well as possessing some of the highest Direct Normal Irradiance (DNI) in the world, storage is a huge value-add, since South Africa has a very unstable grid, with severe power cuts, that requires a lot of dispatchable power.
Scaling Green Question #4: A 2009 study by several organizations, including the European Solar Thermal Electricity Association (ESTELA) and the International Energy Agency's (IEA) SolarPACES group, found that CSP "could generate up to one-quarter of the world's electricity needs by 2050," while "creat[ing] hundreds of thousands of new jobs and sav[ing] millions of tonnes of CO2 from entering the atmosphere." Do you agree with this projection, and what do you believe needs to happen for it to be reached by 2050?
Belen Gallego: This is a great study that ESTELA brought out in 2009. CSP Today is about to publish our latest study, in which we consider three possible scenarios: optimistic, conservative and pessimistic.
Under the right setting, and with the emergence of new markets, worldwide CSP installed capacity can be expected to exceed 10.9 GW by 2017, and 52.7 GW by 2022. Worldwide, there are a total of 16 GW targeted by 2020, and 50 GW by 2030. This means that for this optimistic forecast to be fulfilled, new announcements will be required.
While the optimistic scenario promotes unrestrained growth of the global installed CSP capacity, the reality is expected to follow more closely the conservative scenario, where all CSP enabling factors do not coincide in time. In the conservative scenario, this is reflected by a global capacity of 8.8 GW by 2017, and 24.6 GW by 2022. According to the current announced capacity worldwide, the conservative scenario assumes that more capacity will be announced, that 16 GW of new capacity will be added by 2017, and that an additional 5.9 GW of capacity will be deployed by 2022.
Finally the pessimistic scenario would result in a cumulative installed capacity of 7 GW by 2017 and 12.4 GW by 2022. I believe the pessimistic scenario is unrealistic, considering the development of the industry worldwide and the government programs that are appearing worldwide.
Scaling Green Question #5: CSP Today's 6th Concentrated Solar Power Conference is scheduled to be held in Las Vegas on June 27-28. Can you tell us how this conference first came about, what its main goals are, what the focus of the upcoming event in Las Vegas will be, and why companies and individuals should attend?
Belen Gallego: The first CSP Today USA conference took place in 2008, and it brought together around 400 professionals to discuss the challenges ahead for the industry. Since then, the event has grown in every edition, attended by CSP professionals who want to learn from the experts and network, which is the key to moving the industry forward.
The main goals are to bring policy makers and CSP skateholders together to communicate the value of CSP in the U.S. energy mix, and also to develop the industry further.
The program of the upcoming convention will demonstrate how the value of CSP is not just to meet energy demands and RPS targets, but also to add value to local economies and jobs while providing disptachable energy. The focus is both to develop a strategy for the industry as a whole, focusing on increasing project pipeline by overcoming common project development hurdles, and to further improve CSP technology competitiveness.