Buying behavior has changed, find out how this impacts cleantech's bottom line.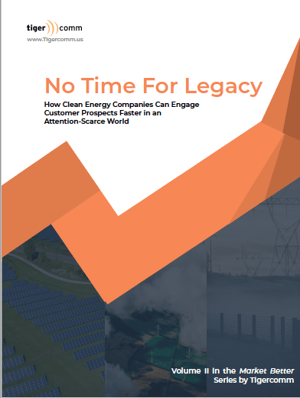 >A 10-minute read<
Across clean economy sectors, sales and marketing teams we talk to share a growing frustration: It's gotten harder to get customer prospects to engage. They're all too familiar with sending that 7th "touch base" email to a prospect they've connected with at the trade show and hearing nothing back.
How Americans buy things has fundamentally changed, extending all the way to purchase decisions for a commercial solar project or contract to service a wind farm.
This eBook will:
Explain how buyer behavior has changed and what prospects are looking for
Offer best practices in marketing and communications for companies selling in the cleantech industry
Include a checklist to drive your marketing and communications program
---
Clean energy solutions and the needs of energy consumers are rapidly evolving. Yet, clean energy companies often rely on traditional communication strategies to build customer relationships. Tigercomm's approach shows how to strategically leverage the digital marketing revolution to build one-on-one relationships on a scale unimaginable a few years ago." - Chris Murray, Senior Business Development Manager at WGL Energy