We often hear from our clients and friends in cleantech that one of their biggest challenges is reaching and educating a wide and varied range of audiences. Whether it's utility executives, corporate customers, policymakers or homeowners, an effective cleantech communicator can usually get to a win, given the opportunity to sit across the table and have a personal interaction. But your team can't be everywhere at once, and it can be difficult to reach these audiences at scale and educate them on your company's value proposition.
B2B Companies Have Unique Challenges
Cleantech companies are regularly at the forefront of innovation in their field, pushing for maximum efficiency, performance and profitability. So why is it that when it comes to their marketing and communications strategy, they are often still operating the equivalent of an aging coal-fired power plant?
For cleantech B2B companies, the need for advanced marketing practices is just as strong as in other, B2C industries, with some key differences:
Many cleantech B2B companies are pioneers of their industry and have a unique burden to educate a variety of stakeholders new to their product.
High-growth companies in cleantech spaces are often operating on lean budgets and need to clearly demonstrate ROI on any investment – before, during and after committing to spend.
Some internal stakeholders may have mistaken assumptions that a small target audience means they can de-prioritize digital channels of communication.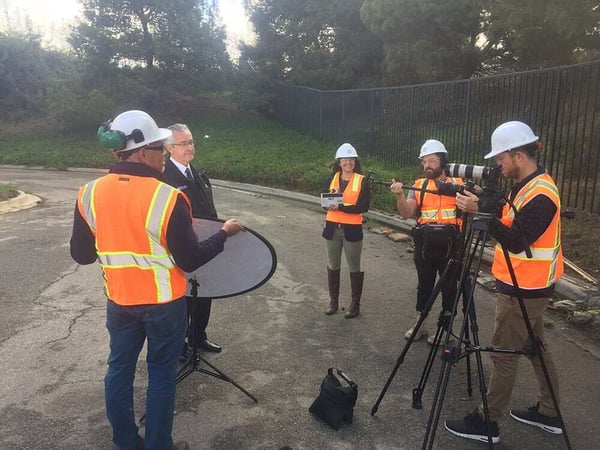 Video Marketing Provides Compound Value Through Multiplier Effect
There are many reasons why video marketing is increasingly seen as a must-have for companies of all sizes. These benefits often interact with each other to multiply the value added. Here's 7 reasons why video marketing is one of the most effective tactics available to the modern cleantech marketer:
Complex messaging can be made clear and simple, in image, sound and in text.

Cleantech companies often need to simplify their messaging for their various audiences, and video forces that simplification by nature of the medium.
Original graphics can help visualize technical concepts and music lends emotional appeal.



Reach your audience exactly where they are with a wide range of cost-effective distribution options.

Video can be distributed via Facebook, Instagram, Pre-roll, Twitter, LinkedIn, YouTube, email and in-person.
The narrow customer set of most B2B cleantech companies is an advantage because it means lower cost to distribute targeted ads.



Customer prospects would rather watch a video.
Video enlists stakeholders in the storytelling process.

A client of ours recently told us "Often, sector folks will be more likely to listen to others in their sector so using the video to turn current customers into messaging missionaries is very strategic." She also pointed out that groups and individuals featured in a video will often share it to their networks as well, broadening the reach of the campaign.



Search engines value video.

While no one is going to buy a wind turbine via a point of purchase website, research shows sales prospects are likely learning about your product online far before they reach out to start the sales conversation.
Your website is not likely to rank highly on SEO without video. Search engines value pages with video as "quality content," ranking them higher than those without.



Video performance is optimally trackable.

The variety of metrics available for video will allow you to measure customer behavior beyond any static content. This will help you to understand your customers' needs and interests.
As you continue to develop and refine your video strategy, you can optimize for specific types of desirable behavior – awareness, understanding, action, etc.
Properly tracked, a video marketing campaign can tell you exactly where your customers are in the sales funnel so you can approach them accordingly.



Facebook is dominated by video.
As cleantech enters the mainstream, the companies leading the disruption can no longer afford to rely on legacy marketing techniques. A strategic inbound marketing strategy with video at its heart can take the educational burden off the sales team and draw customers in with original content that attracts, captures and delights. Video is a critical component to turn your inbound marketing program into a steady lead generation machine.