Disclaimer: I'm about to geek out on graphic design in this piece. Read at your own risk!
After fourteen years and 170 clients, Tigercomm has given its logo a facelift. The original Tigercomm logo was launched in 2005 and featured a lower-case Calibri font and three vector tiger stripes.

The new logo maintains some features from the original for brand recognition but now better reflects Tigercomm's bold creativity and strength as a leader in clean economy marketing communications. The new logo steps away from the common Word font Calibri and, instead, uses a more unique Adobe font, Adrianna. In keeping with the original, the "Tiger" is featured in extra-bold and "comm" in regular. The tiger stripes also transformed, from a simple fill to a deeper orange gradient. Gradients, historically, were not considered a best practice because they needed to work in printed environments that did not support it. But times have changed. Based on Tigercomm's need for a logo that looked best on digital platforms including social media, digital placement is the priority.

The new logo is intended to capture and represent Tigercomm's
bold creativity and strength as we move into our 15th year of service!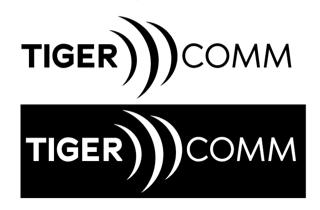 Secondary solid versions for screen
printing or when a single-color light/dark version is necessary.
ScalingClean
Tigercomm's blog, ScalingClean has also undergone some changes. In 2017, ScalingGreen changed to ScalingClean, "to honor the rapid growth and maturation in the cleantech sector. Companies in the wind and solar power, battery storage and energy efficiency sectors have grown beyond their 'green' origins, into dynamic clean economy industries." Read more about that transition here.


As blogs become increasingly more central to a company's marketing, we've integrated our company's corporate website and the publishing site. We closed all of our ScalingClean social media accounts so that we could better communicate through one singular voice.

The blog continues to be dedicated to the advancement of the clean economy but can now also be found on Tigercomm's website under "Our Insights."
The clean economy marketing and public affairs conversations taking place on ScalingClean continue on our brand's social media platforms. Please follow, connect or join us here: