The California Energy Commission (CEC) recently approved the 2019 Building Energy Code, calling for significantly higher standards to reduce the energy consumption and greenhouse gas emissions from new buildings. Among the most innovative of the standards is the unprecedented requirement that all new residential buildings up to three stories will be required to have a photovoltaic solar system with annual electrical output equal or greater to the dwelling's annual electrical usage, beginning in 2020.
The novelty of a rooftop solar mandate on new construction justifiably attracted a great deal of media coverage, with the cleantech trades picking it up first, and then rippling out to the national mainstream outlets as the CEC voted to approve.
We read it all, so you don't have to.
Here are some of the best resources on this pioneering residential solar market development:
Julia Pyper at Greentech Media published the definitive guide to the building codes, including what's in them, what the net effect could be for the solar industry and California's grid, how utilities are responding and additional incentives for energy storage and the drive to #electrifyeverything: Everything You Need to Know About California's New Solar Roof Mandate
David Roberts summarized the arguments in favor and against the solar mandate for Vox, although in our view the headline of the article is misleading and not entirely supported by the body: California will require solar panels on all new homes. That's not necessarily a good thing.
David embedded a tweet from Tigercomm's own Dylan Gasperik for argument #6 in favor of the mandates: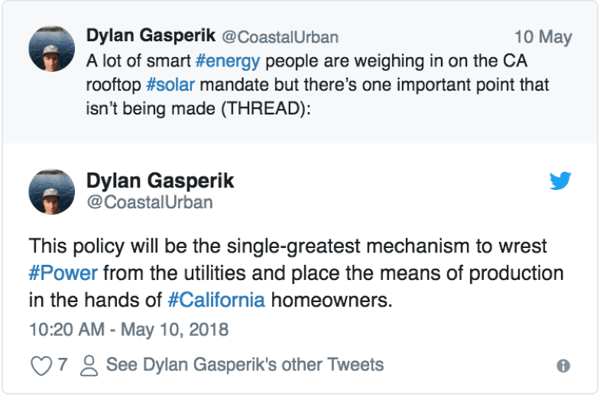 ASU energy security researcher Dr. Wesley Herche and pv magazine author John Weaver detailed how the mandate could potentially lead to significant cost declines for rooftop solar in CA. They demonstrate how prices could go as low as $1 per Watt (W), competing with prices of utility-scale solar installations: California residential solar power headed toward $1/W and 2.5¢/kWh
Additional stories of note:
Viewing this development from a marketing perspective, it occurs to us that this policy could open a new market of customers for solar equipment suppliers and installers who may have previously considered, but not pursued in earnest: home builders.
Ivan Penn of the New York Times touches on the business opportunities for home builders in his piece: California Will Require Solar Power for New Homes
How do you think the 2019 Building Energy Code will impact the grid and cleantech sector in California? Let us know on LinkedIn, Facebook or Twitter.