Navigant Research is out with a new report providing "global market analysis and forecasts" for solar PV and advanced battery energy storage, and the results are highly bullish. See below for a chart showing that, "By 2026, the annual global market for the deployment of [Distributed Solar plus Energy Storage -- DSES] in the residential, C&I, and remote, off-grid market segments is anticipated to reach 27.4 GW and $49.1 billion." Also, see below the chart for a few more key findings from the report's Executive Summary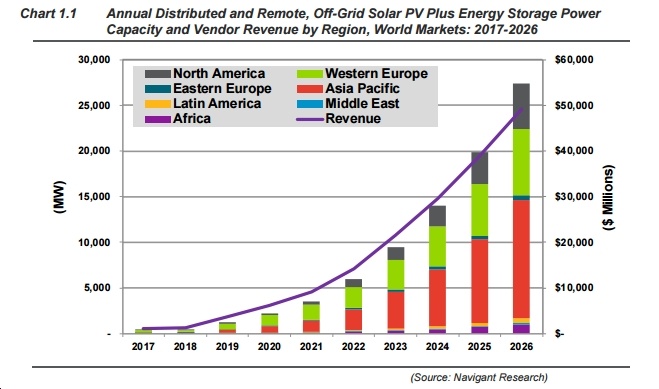 Distributed energy is booming: "The growth of distributed energy resources (DER) is changing how electricity is delivered by the grid to end users. Distributed solar PV has grown to become a valuable part of the global power generation mix and is forecast to grow substantially in the next several years."
Deployment of distributed solar plus energy storage does face some barriers: While "an emerging confluence of technical, economic, and regulatory factors is beginning to drive growth in each of these DSES markets...the deployment of DSES still faces significant barriers."
Good news: "Battery energy storage systems (BESSs) can now be coupled with solar PV and virtual power plant (VPP) software technology to allow this type of battery energy storageenabled DER to be dispatchable from a grid operator standpoint to address intermittency and provide grid services."
More good news: "The installed costs of both solar PV and BESSs have fallen significantly in recent years, and further declines are expected. Lower costs coupled with proven system performances will allow solar PV plus BESSs to compete with retail electricity prices in the mid-term..."
DSES makes sense: "Energy storage coupled with solar PV can provide a diverse array of benefits that solar PV alone cannot."
On this same topic, you might also want to check out Why grid based battery storage is already a no-brainer in Australia, which reports: "The stunning cost falls in solar in particular and storage – and the fact that they are now demonstrably and significantly cheaper than new coal and gas – has put the writing on the wall... we have the network owners and the major generators and retailers working out how to adapt their business to the inevitable – a switch to 100 per cent renewable energy." That sounds about right; the main question being how fast this clean energy transition will occur.