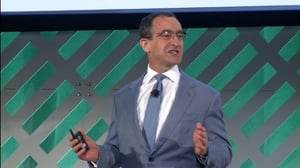 Slides from Bloomberg New Energy Finance (BNEF) Chairman Michael Liebreich's fascinating presentation at the BNEF Future of Energy Global Summit are available here, and you can watch the video of his presentation by clicking on the image to the right. See below for highlights.
Global new clean energy investment was down in 2016 by 17%, but half of that drop was due to "further reductions in the costs of the technology." Despite this, installations of clean energy have been increasing.
Unsubsidized clean energy prices keep setting new world-record lows, and these tend to "become the normal prices shortly afterwards." That includes solar, onshore wind and offshore wind power.
"Renewable energy continues to out-invest fossil by 2 to 1. I keep telling people, this is not alternative energy. This is just mainstream power-generating technology. No alternative energy, no alternative facts."
Green bonds - "a market that didn't exist 10 years ago" - are booming ($123 billion this year ). "Money is flowing into this sector."
We've seen "another year in which the economy has grown and emissions have not grown - we are winning."
China's seen "precipitous growth in renewable energy," and as a result "the grid is having trouble keeping up," resulting in "curtailment rates of around...10%, 15%."
India has seen "incredible developments," with the cost of solar power "now cheaper than coal." However, Indian installation rates of renewable energy are still "quite far away" from what's needed to hit Prime Minister Modi's clean energy goals.
Europe's new investment in clean energy has "stagnated," with "only the U.K....really eliminating the use of coal and seeing the impacts on emissions."
In the U.S., "as long as the Production Tax Credit for wind, the Investment Tax Credit for solar remain in place, investment in wind and solar continues - these are robust and strong and attractive markets."
U.S. wind installations are cumulatively up 262% since 2008; solar installations are up 4,645% since 2008. U.S. corporate procurement of clean energy is "up 5,000%" since 2008. Energy efficiency is up 100% since 2008. Smart meter deployments are up 4,300% since 2008. Fuel economy has improved 21% since 2008. PV prices are down 83% since 2008, wind prices are down 71%. U.S. energy productivity is up 13% since 2008. Greenhouse gas emissions are down 23% since 2008, with the U.S. already halfway towards its Paris targets.
"Americans are spending less on energy as a proportion of their income than at any time since the second World War. Truly this is a golden legacy."
"Coal is falling out the [power generation] mix," replaced "mostly by gas" plus renewables and energy efficiency. And it doesn't appear there's any way coal jobs are coming back due to economics and the high capital intensity of the coal sector.
When it comes to the energy future, we are entering the "age of plenty on steroids."
"Investing in fossil-fuel energy and transport assets means we emit more greenhouse gases" which drives climate change, pushes up global temperatures and causes other climate impacts.
BNEF is "very bullish about electric vehicles," with global EV sales projected to surpass 20 million vehicles per year by 2030, at which point 35%-47% of new cars expected to be electric by 2040 (compared to under 1% today).
Lithium-ion battery pack prices down 73% since 2010 and expected to fall another 75% by 2030.
Deployment of cheap renewables at large scale will result in major changes to power markets.
Liebreich concludes: "Are we going to win? Are we going to win? You bet we're going to win. You're going to win so much your head will spin."