A brand-new study by the American Wind Energy Association (AWEA) and Navigant Consulting looks at the jobs and economic impacts resulting from U.S. wind power projects through 2020, and the results are highly encouraging. Note that AWEA and Navigant assume no change in the current Production Tax Credit (PTC) policy, and also that the Clean Power Plan "will not be implemented at the national level but that some states will proceed with similar plans for reductions in CO2 emissions." With that, here are some highlights that jumped out at us.
"The U.S. wind market will be in the 8-10 GW/year range through 2020," with cumulative new installed capacity of approximately 35 gigawatts (GW), on top of current U.S. wind power generating capacity of around 82 GW.
"Total U.S. wind employment will reach 248,000 jobs in 2020. Total new wind economic impact will peak at $24 billion in the same year."
"The U.S. wind industry will support 865,000 job-years of employment and provide $85 billion in economic impact in 2017-2020."
"States with the highest total wind employment in 2017-2020 are TX, CO, and IA." Those states will also see the greatest positive economic impact from wind power projects through 2020.
Other states with large numbers of wind power jobs from 2017 to 2020 include: Illinois (30.2 thousand jobs), Ohio (28.4 thousand jobs), North Dakota (27.2 thousand jobs), Michigan (26.3 thousand jobs), Minnesota (20.1 thousand jobs), Florida (18.0 thousand jobs), Wisconsin (17.8 thousand jobs), Pennsylvania (15.7 thousand jobs), Oklahoma (14.9 thousand jobs), North Carolina (14.6 thousand jobs), New Mexico (14.2 thousand jobs) and Massachusetts (13.7 thousand jobs).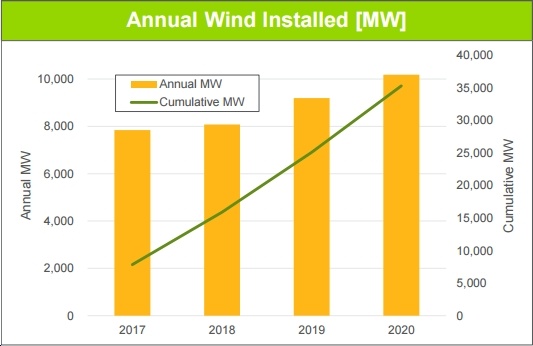 Oh, and just in case you wanted even more great news about wind power, see this Bloomberg story from a bit earlier this week, which reported:
Across Europe, the price of building an offshore wind farm has fallen 46 percent in the last five years -- 22 percent last year alone. Erecting turbines in the seabed now costs an average $126 for each megawatt-hour of capacity, according to Bloomberg New Energy Finance. That's below the $155 a megawatt-hour price for new nuclear developments in Europe and closing in on the $88 price tag on new coal plants, the London-based researcher estimates...Offshore wind projects coming online today are already delivering power at almost half the price of those finished in 2012 thanks to larger turbines and greater competition.
In sum: wind power is seeing soaring installations and plummeting prices, spurring economic activity and creating jobs wherever it goes. Not too shabby for this clean (e.g., uses no water, emits no CO2 or other air pollutants), inexhaustible power source.