The Yale Program on Climate Change Communication, along with the George Mason University Center for Climate Change Communication, is out with a timely new report focused on Trump voters' attitudes towards clean energy and climate change. A number of favorable findings jump out, including the following.
Trump voters strongly support clean energy development: "Almost three in four Trump voters (73%) say that, in the future, the U.S. should use more renewable energy sources (solar, wind, and geothermal). Additionally, one in three (33%) say that the U.S. should use fossil fuels less in the future, while nearly one in three (31%) would like the U.S. to use fossil fuels more."
Most Trump voters want clean energy R&D, tax rebates for energy efficiency and solar power. "Seven in ten support funding more research into clean energy (71%) and providing tax rebates to people who purchase energy efficient vehicles and solar panels (69%)."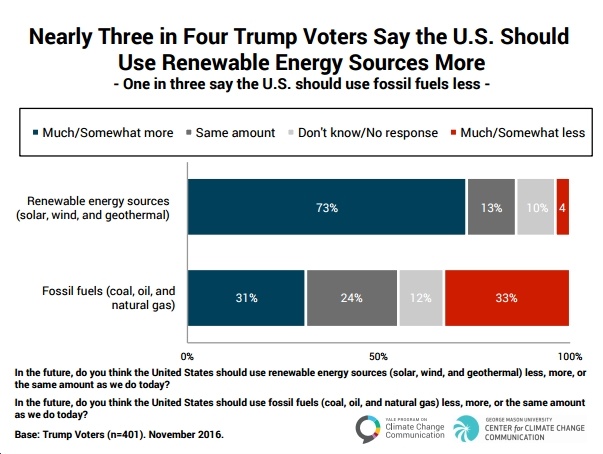 Trump voters are split on whether a transition to clean energy will create jobs. "About half of the people who voted for President Trump think that government policies intended to transition away from fossil fuels and toward clean energy will either improve economic growth and provide new jobs (29%), or will have no impact on economic growth or jobs (21%). The other half (49%), however, think these policies will reduce economic growth and cost jobs."
Trump voters want to get tax carbon, ditch fossil fuel subsidies. "Over half of Trump voters (52%) support eliminating all federal subsidies for the fossil fuel industry, and nearly half (48%) support requiring fossil fuel companies to pay a carbon tax and using the money to reduce other taxes by an equal amount."
Only 21% of Trump voters oppose either taxing or regulating carbon pollution. "More than six out of ten Trump voters (62%) support taxing and/or regulating the pollution that causes global warming, and nearly one in three (31%) support doing both. By contrast, only one in five (21%) support neither approach."
A significant percentage of Trump voters support the Clean Power Plan's goals. "[A]lmost half (48%) support setting strict carbon dioxide emissons limits on existing coal-fired power plants to reduce global warming and improve public health, even if the cost of electricity to consumers and companies would likely increase. This policy is the core of the EPA's Clean Power Plan."
By a nearly 2:1 margin, Trump voters want the U.S. to remain in the Paris Climate Agreement. "[A]lmost half of Trump's voters (47%) say the U.S. should participate in the Paris agreement, compared with only 28% who say the U.S. should not."
The bottom line according to this survey is that - as polling has consistently found - there is broad, bipartisan support in the U.S. for clean energy scaling and for taking action regarding climate change caused by combustion of fossil fuels. Let's just hope that the politicians, both at the state and federal levels, are listening to their voters rather than to their fossil fuel industry donors.