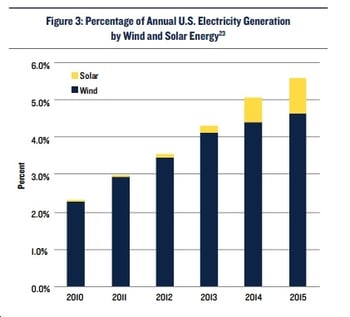 A brand-new report by the Natural Resources Defense Council (NRDC) has good news for anyone concerned that the transition from dirty to clean energy might be derailed in coming years. Instead, according to NRDC (bolding added for emphasis):
The United States is building a clean energy revolution that will deliver deep pollution reductions. Coal-fired generation dropped to historic lows this year, producing only one-third of our electricity, while renewable energy generation reached record highs, with more than one-eighth of America's electricity generated from solar panels, wind turbines, and other renewable resources. The past year in energy saw a number of victories for the environment, highlighted by a global climate agreement and a carbon pollution reduction plan for the United States. There have been strong efforts to decarbonize the electric grid through carbon reduction targets, energy efficiency gains, and renewable energy additions. In fact, more than one-fifth of the U.S. population lives in a state with a goal of at least 50 percent renewable energy.
As a result of these trends, NRDC argues, "a transition to a clean energy economy is irrevocably underway, and independent of any changes in federal administrations or congressional leadership." At the same time, NRDC believes, "economic forces, integrated with energy policy made at state and regional levels, will remain the most significant factors in determining America's energy future, not partisan ideological differences."
A few other important findings in this report include:
"[The] clean energy transition is being driven in large part by gains in energy efficiency, the least expensive and most productive way to meet our energy needs. Energy efficiency in our homes, buildings, and appliances reduces our need for dirty fuels and allows utilities to avoid building polluting power plants."
"Due to energy efficiency progress, the historical link between economic growth and total energy use was broken four decades ago and has not reappeared. GDP increased by 30 percent between 2000 and 2015, while total energy consumption remained flat."
"Primarily as a result of reduced coal use, energy efficiency gains, and soaring generation from solar and wind, 2015 marked a milestone in modern U.S. history: carbon dioxide emissions from electric generation dropped below those of the entire transportation sector for half of the year."
During the first three quarters of 2016, renewable energy accounted for more than 15% of U.S. power production, with the shares of wind and solar having "more than doubled in the past five years." This growth is expected to continue, with "solar and wind energy...projected to nearly double from 2015 levels by 2021 as a result of the tax credit extensions and other policies."
Several states - California, New York, Oregon, Hawaii, Vermont - have strengthened their renewable portfolio standards (RPS), and many cities are also leading in the push towards clean energy.
"There is a shift from large, centralized power plants to a new energy landscape with distributed (on site) energy resources—such as energy efficiency, demand response, small-scale renewable generation, and energy storage—that can help meet Americans' energy needs."
"Pumped hydroelectric storage currently represents the majority of storage capacity in the United States. However, non-hydro storage technologies—such as compressed air, batteries, and flywheels—more than doubled their capacity from 160 megawatts in 2010 to 350 megawatts in 2014. States have begun to develop policy road maps and mandates to develop energy storage technologies; for example, California is committed to adding at least 1.3 gigawatts of capacity by 2020."
We'd further point out that corporate America continues to push ahead with renewable energy, in large part because it makes strong business sense for them to do so. For instance, the New York Times reported yesterday that "[l]ast week, Amazon reiterated its long-term commitment to power its machines entirely with renewable energy," and that "all of [Google's] data centers around the world will be entirely powered with renewable energy sources sometime next year." Google itself points out that "the cost of wind and solar came down 60 percent and 80 percent [over the past six years]...proving that renewables are increasingly becoming the lowest cost option." Google concludes that its "ultimate goal" is no less than "to create a world where everyone — not just Google — has access to clean energy." Sounds good to us!