If you think it's hot outside right now, just wait a few more days. According to the Washington Post's Capital Weather Gang:
A huge, hot area of high pressure is forecast to develop over the central United States next week, which may result in the nation's most significant heat wave of the summer.

Forecast models, across the board, suggest this dome of hot air will be massive, affecting most of the country, except the Pacific Northwest.

It is too soon to say exactly how hot temperatures will be, but initial indications are that the central United States may face some of the country's hottest weather with respect to normal. Record heat is certainly a possibility, although exactly how many records fall and where won't come into focus for several more days.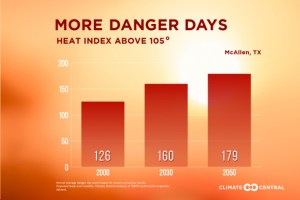 What's fueling this extreme heat, with records shattered in Alaska, the Southwestern U.S. and around the world, year after year, is clear: global warming caused largely by our combustion of carbon-based fossil fuels. And looking ahead, it's not going to get any better unless we switch to clean energy quickly. On that point, a timely new report by Climate Central finds that "scores of U.S. cities home to tens of millions of people will face dramatic increases in dangerous and extreme heat days by the middle of this century if current greenhouse gas emissions trends continue."
As you can see from the graphic below, temperatures are already significantly warmer in the U.S. since 1970. And as you can see from the graphic above, the number of heat index "danger days" is likely to increase significantly, in this case for McAllen, Texas. Unfortunately, McAllen is not an aberration; check out the Climate Central report and view details for the city nearest to you. For instance, Los Angeles is expected to go from 16 "danger days" in 2000 to 29 in 2050. New York City is expected to go from 5 "danger days "in 2000 to 28 in 2050. And Chicago is expected to go from 4 "danger days" to 32 in 2050. A similar trend is seen in city after city.
All of that assumes, of course, that "greenhouse gas emissions continue unabated" through 2050. To the contrary, if we slash our greenhouse gas emissions by switching to clean energy, then this forecast will likely change for the better, perhaps dramatically. Given that clean energy prices are plummeting, which means solar and wind increasingly make sense for purely economic reasons, why would we not do that?