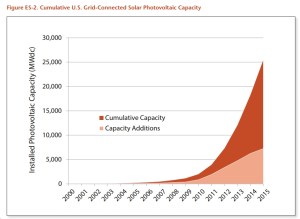 A brand-new report by the Frontier Group and Environment America's Research & Policy Center looks at "The Top States that Helped Drive America's Solar Energy Boom in 2015." Key findings include:
"A growing number of states are leading America's ongoing solar boom. Those states are not necessarily the ones with the most sunshine, but rather the ones that have opened the door for solar energy through the adoption of strong public policies."
"The 10 states with the most solar capacity per capita – Nevada, Hawaii, California, Arizona, North Carolina, New Jersey, Vermont, New Mexico, Massachusetts and Colorado – have a track record of strong public policies that are enabling increasing numbers of homeowners, businesses, communities and utilities to 'go solar.'"
Those top 10 solar states generally had: "strong net metering policies at the beginning of 2015, though only seven retain strong net metering policies today following the elimination of retail net metering in Nevada and Hawaii during 2015;" " strong interconnection policies;" policies that allow critical financing options like third-party power purchase agreements; and "renewable electricity standards."
"The top 10 solar states account for 88 percent of American solar energy capacity, but only 26 percent of America's population."
"America's Solar Energy Potential Is Virtually Endless": " An analysis by researchers with the National Renewable Energy Laboratory (NREL) estimated that the U.S. has the potential to use photovoltaic panels to generate 76 times as much as electricity as is used in the United States each year."
"Solar Power Is Cheaper and More Efficient than Ever": "The price of utility-scale solar PV installations fell by more than 50 percent from 2007-2009 to 2014, and in many cases electricity from new utility-scale solar plants is now cheaper than from new natural gas plants."
"Solar Capacity in America Doubled from 2013 to 2015": " From 2005 to 2015, America's cumulative solar capacity grew by an average of 60 percent every year....while it took 40 years for America to reach one million solar installations, forecasts predict an additional one million solar installations in the next two years."
Conclusion: "Every state should adopt aggressive targets for the development of solar energy consistent with achieving a rapid transition to 100% renewable energy."
By the way, on the theme of positive news for solar power, we're also struck by this article in PV Magazine, which cites Deutsche Bank Research Analyst Vishal Shah as forecasting that utility-scale solar power costs in the U.S. will fall below $1 per watt over the next 12-18 months. Which means, of course, that solar power will increasingly beat coal- and natural gas-fired power on a price basis alone, not even considering the negative "externalities" (pollution, water use, etc.) that characterize fossil fuels.