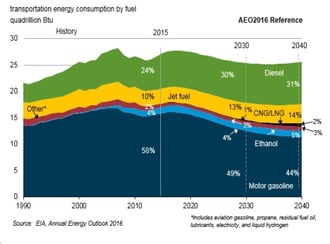 We've been keeping an eye on the U.S. Energy Information Administration's (EIA's) long-term projections for wind and solar power, because many supporters of clean energy scaling (ourselves included) have been concerned that EIA's forecasts have been consistently too-pessimistic on this subject. Back in 2013, for instance, we wrote that EIA Renewable Energy Forecast Isn't Just Wrong, It's Wildly, Laughably Too Low. More recently, we commented that EIA's Response to Criticisms of Its Clean Energy Forecasts Fails to Address Core Concerns.
Today, we turn our attention to EIA's brand-new "Annual Energy Outlook 2016 Early Release," which was just posted yesterday, and which looks at U.S. energy picture through 2040 under a "Reference case" and a "No CPP case." Here are five observations regarding this new report (bolding added for emphasis).
Again, we are well aware that what EIA is doing is making projections based on a set of assumptions, not predictions of what will definitely happen in the future. Still, it seems that EIA continues to greatly underestimate cleantech scaling, whether they're assuming wind power flatlining after 2022/2023 or no significant electric vehicle penetration through 2040. Even given current policies, laws, technologies, etc., none of that seems at all likely, which makes us wonder what the value of the EIA projections might be.