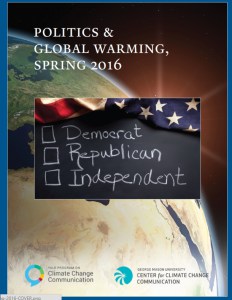 The Yale Program on Climate Change Communication does great work, and today is no exception, with their new report, "Global Warming and the 2016 U.S. Presidential Election." Here are a few findings relevant to the clean energy industry:
Voters across the political spectrum want more clean energy, less dirty energy. "Registered voters support a broad array of energy policies, including many designed to reduce carbon pollution and dependence on fossil fuels, and to promote clean energy. The Democratic candidates' supporters are the most likely to strongly or somewhat support such policies, but supporters of the Republican candidates do as well."
Supporters of the leading Democratic and Republican presidential candidates all support clean energy R&D. "Funding more research into renewable energy sources such as solar and wind power (Sanders: 93%, Clinton: 91%, Kasich: 86%, Trump: 76%, Cruz: 64%)."
Same thing for tax incentives for solar power, energy efficiency. "Providing tax rebates to people who purchase energy-efficient vehicles or solar panels (Sanders: 94%, Clinton: 92%, Kasich: 80%, Trump: 70%, Cruz: 59%)."
Other than Cruz supporters, voters want to regulate, tax carbon as a pollutant. "Regulating carbon dioxide as a pollutant (Clinton: 91%, Sanders: 87%, Kasich: 74%, Trump: 62%, Cruz: 47%)...Requiring fossil fuel companies to pay a carbon tax and using the money to reduce other taxes such as income taxes by an equal amount (Sanders: 88%, Clinton: 85%, Kasich: 53%, Trump: 51%, Cruz: 27%)."
Other than Cruz supporters, voters support the Clean Power Plan. "Most Sanders and Clinton supporters (90% and 87%, respectively) and over half of Kasich voters (61%) support setting strict carbon dioxide emission limits on existing coal-fired power plants to reduce global warming and improve public health, even if the cost of electricity to consumers and companies would likely increase. Half of Trump supporters do as well (50%). By contrast, only 36% of Cruz supporters agree."
Clinton and Sanders supporters oppose offshore drilling; Trump supporters support it. "[F]ewer than half of Clinton (42%) or Sanders (35%) voters support the expansion of offshore drilling for oil and natural gas off the U.S. coast, while significant majorities of Republican candidate voters support it (Cruz: 85%, Trump: 75%, Kasich: 67%)."
The bottom line, as many other polls have shown, is that Americans overwhelmingly support clean energy and reductions in fossil fuel pollution. To the extent that this is a partisan issue, Democrats are more pro-clean-energy and more supportive of action on climate change than Republicans, but there's significant support across the political spectrum for both of those things.