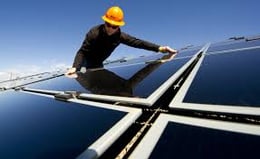 Earlier today, SunEdison filed for bankruptcy, "as years of debt-fueled acquisitions proved unsustainable." While unfortunate, it is important to emphasize that this bankruptcy — the result largely of financial missteps within this one specific company — is not a sign of broader problems in the solar power industry. Note that since the Solyndra non-scandal back in 2011, the solar industry has been growing like gangbusters, despite claims five years ago by clean energy critics that Solyndra was a sign of a failing sector. To the contrary, what we see today with the solar power industry is:
Also, as the Washington Post reported today, "[b]y the end of 2020, the amount of installed solar capacity will be 300 percent higher than today,'" according to Dan Whitten of SEIA, while "solar roofs are becoming a no-brainer, even if you're not trying to 'save the environment.'" And that will continue to be the case tomorrow and beyond, regardless of what happens to SunEdison.
The bottom line is that while companies come and go – as is totally normal in capitalism – the solar industry as a whole is healthy and essentially unstoppable at this point.