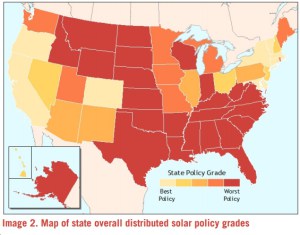 Last fall, Environment America issued a report looking at the top ten states from a policy perspective for solar power growth as of 2014. Those states included Hawaii, Arizona, Nevada (note that this state's ranking almost certainly has fallen sharply in recent months -- see here for more), California, New Jersey, New Mexico, Vermont, Massachusetts, North Carolina and Colorado. These states made the top 10 due to strong policies in the areas of solar net metering, Renewable Portfolio Standards (many with solar "carve-outs"), PACE and other means of creative clean energy financing, etc.
In contrast, a new report out today looks at the other end of the spectrum: "10 Sunny States Blocking Distributed Solar Development." The following are the 10 states, with a short explanation as to how they make it tougher on cleantech companies than in the strongest solar states. Keep in mind that all of these states have high solar power potential, which is a major reason why they made this list.
Alabama: "With no RPS, net-metering or community solar laws in place, and legal barriers to third-party solar companies operating in the state, it's no surprise that Alabama is falling far behind its solar potential. "
Florida: "[D]espite its nickname, 'the Sunshine State' has one of the weakest solar policy landscapes in the United States. With no RPS, third-party ownership or community solar policies, Florida has essentially blocked all potential distributed solar development, especially for those who cannot afford to buy solar panels outright and install them on their own."
Georgia: In "the top 10 states for rooftop PV technical potential, but falling far behind in installed capacity." Why? Because is has "no RPS, community solar or solar-access laws and one of the weakest net metering policies in the country, according to IREC and Vote Solar's 'Freeing the Grid' report."
Indiana: "Between a voluntary RPS, no community solar and unclear third-party ownership (TPO) laws, plus a pending residential monthly fixed charge increase for Indianapolis Power and Light customers, Indiana is essentially blocking any chance of substantial distributed solar development, even without the threat of additional barriers, especially for low-income communities. "
Michigan: The state, somewhat surprisingly, "comes in at number 8 for rooftop PV technical potential in the United States." Yet state energy policy is not helping make it easy for rooftop solar power companies. For instance, "net-metering policy includes barriers in the form of low system-size limits and aggregate capacity limits." Also, Michigan's "interconnection standards are complex and include a requirement for additional and redundant insurance." Finally, "Michigan lacks both community solar laws and solar-access laws, two policies that could directly benefit lower- and moderate-income home and business owners."
Oklahoma: The state "does not allow for third-party ownership, has no community solar laws or solar access laws, and has very weak interconnection standards." While it "does have an RPS...its 15 percent [voluntary] goal is not particularly strong, [and] it doesn't include a solar carve-out." Finally, "although Oklahoma does have a net-metering program, it has a fairly low system-size limit and does not require that utilities pay customers back for the net energy they generate; this significantly decreases the payback for distributed solar customers. "
Tennessee: In terms of state policy, there's been almost nothing passed to support distributed solar power. "With no RPS, net metering, third-party ownership, community solar laws, interconnection standards or solar-access laws, Tennessee has essentially nixed any opportunity for distributed solar development."
Texas: Everything's big in the Lone Star state, including its enormous distributed solar power potential. " Unfortunately the state's legislature and regulators have consistently blocked progress on distributed solar policy for the last decade." On the positive side, "With even moderate improvements to its net-metering law and its renewable portfolio standard, Texas could dramatically improve accessibility to distributed solar sources."
Virginia: Among other factors holding back distributed solar power development in the state, Virginia " only has a voluntary RPS with no solar carve-out, unclear legality for third-party ownership and no community solar." The state also has a "weak net metering " law on the books.
Wisconsin: The state's "existing RPS is outdated and ineffective," plus it contains "no solar carve-out, which isn't surprising given the lack of other incentives for solar development in the state." In addition, "Wisconsin's net-metering program could also be strengthened by increasing or removing the system size cap and allowing for community solar inclusion." Finally, Wisconson's "interconnection standards obtained a low grade on IREC and Vote Solar's 'Freeing the Grid' report due to the fact that they require solar customers to buy extra liability insurance and to install a redundant external disconnect switch, both of which create burdens for potential customers who might already find it financially challenging to install solar panels without access to third-party ownership agreements."
Recommendations to fix these problems are clear: adopt more ambitious Renewable Portfolio Standards, preferably with solar carve-outs; strengthen solar net metering policies; allow for third-party PPAs and solar leasing; create community solar and low-income solar financing programs; strengthen interconnection standards; and "[c]reate solar-access laws to protect individual home and business owners' rights to install solar panels on their property." With those types of policies in place, there's no reason why rooftop solar power wouldn't boom in all those states, given its popularity and increasingly attractive economics.