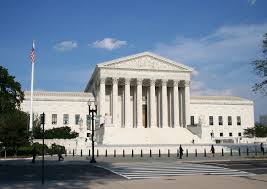 Earlier this week, the U.S. Supreme Court issued a ruling in a case ("Hughes v. Talen Energy Marketing, LLC") that could have had adverse implications for states wishing to promote clean energy development. Fortunately, that's not what happened. First, though, here's the gist of the decision by the Supreme Court.
The Supreme Court on Tuesday ruled that Maryland overstepped its authority when it implemented a program to subsidize construction of natural-gas-fired power plants.

The court unanimously ruled that by requiring companies building such subsidized plants to set rates for certain electricity sales, Maryland improperly interfered in markets that are the sole responsibility of the Federal Energy Regulatory Commission (FERC).

"We agree with the Fourth Circuit's judgment that Maryland's program sets an interstate wholesale rate, contravening the FPA's division of authority between state and federal regulators," Justice Ruth Bader Ginsburg wrote for the court.

"By adjusting an interstate wholesale rate, Maryland's program invades FERC's regulatory turf."

..."Nothing in this opinion should be read to foreclose Maryland and other states from encouraging production of new or clean generation through measures untethered to a generator's wholesale market participation," she wrote.
According to a recent Utility Dive analysis, this case had the clean energy industry somewhat "on edge," as the ruling "could have [had] wider implications for clean energy development nationwide." The reason is that "a broad ruling could [have impacted] how states develop solar and wind projects." Given this potential, clean energy advocates had weighed in.
The American Wind Energy Association joined the proceeding with an amicus brief in support of the state's generation program. Solar and wind advocates see broad state authority as a boost to the development of renewable resources.

"The decision significantly undermines state authority to decide the resource type, quantity, and timing of new or existing generation facilities that will be constructed or maintained within the state," AWEA said. "Thus, the state's ability to ensure its electricity supply portfolio could be severely diminished, which would significantly impact renewable energy programs and other state environmental programs."

On the Natural Resources Defense Council [NRDC] blog, the group said the facts of the case are so specific "it remains to be seen whether the Supreme Court's decision will provide any governing precedent one way or the other." A very broad ruling could sweep away a wide range of policy tools states use, but a more narrow decision could have far more limited implications.
As it turns out, NRDC's "more narrow decision" scenario is what ended up happening. Here is what NRDC had to say about yesterday's Supreme Court ruling.
Fortunately, the Supreme Court's eight justices put this fear to rest today in an opinion emphasizing that the very specific features of Maryland's program (described below) were its critical flaw from a jurisdictional perspective. The Court's opinion contains no legal showstoppers that would prohibit states from pursuing their own clean energy agendas. In fact, the Court specifically noted that its decision allows states to continue to use a wide range of tools to incentivize clean energy.

FERC, the lower courts considering this case, and now the U.S. Supreme Court have emphasized that they want to avoid interfering with state prerogatives, especially as pertains to clean energy. But Maryland's specific programs to incentive fossil fuel power plants couldn't survive on technical grounds...

...Although today's decision will not entirely preclude future challenges that test the edges of state and federal authority, the Hughes decision avoided a broad ruling that would have jeopardized many state clean energy programs. States such as New York and California should continue to chart a bold vision for clean energy, using all the tools at their disposal. Where requiring long-term power purchase agreements is the least-cost and most effective solution for spurring new wind and solar power, states should draw upon this mechanism in addition to other policies that guarantee that desired clean energy outcomes are achieved.
So, all in all, the Supreme Court decision is good news for clean energy. Even better, it marks the second major Supreme Court decision this year supportive of clean energy, the other being in favor of demand response. On the other hand, the Supreme Court in February also put a "stay" on implementation of the Clean Power Plan (CPP), although this very well may not end up changing the timeline significantly, let alone permanently halting the CPP. The bottom line is that the clean energy industry is booming, yet legal and political challenges periodically threaten to throw monkey wrenches into that growth. Which means that it behooves everyone who wants to see clean energy scale up rapidly to keep a close eye not just on their core business, but also on stage legislatures, Congress and the courts. In the case just decided yesterday, the clean energy industry can be said to have dodged a bullet, but that doesn't mean there's not potential more trouble lurking out there.