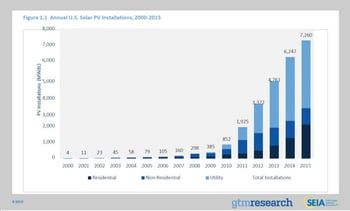 The Solar Energy Industries Association (SEIA) is out with a new report, produced in conjunction with Greentech Media (GTM), that should put a big smile on the faces of solar power fans. A few highlights include:
2015 was a momentous year for solar power in the United States. According to the SEIA/GTM study, solar photovoltaic (PV) deployments in 2015 reached 7.3 gigawatts (GW), "up 16% over 2014 and 8.5 times the amount installed five years earlier." That brings total U.S. solar capacity to 25.6 GW, "with over 900,000 individual projects delivering power each day."
New U.S. solar power capacity beat natural gas for the first time. "[S]olar accounted for 29.4% of new electric generating capacity installed in the U.S. in 2015," compared to 29.0% for natural gas-fired power capacity and 39% for wind.
Residential solar is booming. "Residential solar benefitted from a fourth consecutive year of >50% annual growth, with installations reaching" 2 GW in 2015. That represents residential solar's "largest annual growth rate to date." In addition, residential solar "is showing glimpses of geographic demand diversification, with the number of 20 MWdc annual state markets for residential solar increasing threefold over the past four years."
The U.S. solar power market is set to grow an amazing 119% in 2016. As GTM puts it, "16 gigawatts of solar will be installed in the U.S. in 2016, more than doubling the record-breaking 7.3 gigawatts installed in 2015," with "the U.S. is on the verge of its millionth solar installation."
This strong growth is expected to continue for years to come. According to SEIA, "by 2021, more than half of all states in the U.S. will be 100+ MWdc annual solar markets, bringing cumulative U.S. solar installations above the 100 GWdc mark."
As solar power scales up, prices keep coming down. According to SEIA, "Overall system pricing fell by up to 17% over the course of 2015, depending on the market segment, with the largest declines in the utility fixed-tilt sector." SEIA adds that in the "non- residential and utility sectors, there were annual declines of 10% and 17%, respectively," and that this "reflects continued aggressive cost reductions, both in hardware and soft costs." On both the residential non-residential sides, SEIA does note that reducing "soft costs" remains a challenge, and that "[i]n order to continue reducing costs, developers and EPCs are looking to squeeze additional power density for commercial sites and amortize fixed costs over more power output – and therefore reduce dollar-per-watt and dollar-per-kWh."
On a related note, GTM reported earlier today that the "global blended average price for a tier-1 Chinese-produced multicrystalline PV module fell 10 percent year-over-year and reached 57 cents per watt in the fourth quarter of 2015." GTM futher "anticipates that global blended prices will steadily fall at an annualized rate of 5 percent and reach 44 cents per watt by 2020." All of which means that the "levelized cost" of solar power (see Lazard's November 2015 study for more on this topic), particularly at the utility scale, will increasingly beat the cheapest forms of new fossil-fired power plants, including natural gas combined cycle plants. Meanwhile, the U.S. Energy Information Administration (EIA) reported this week that more than 80% of retired U.S. electric generating capacity in 2015 was "conventional steam coal," while 63% of U.S. generating capacity additions in 2016 are expected to come from solar and wind power. All in all, these truly are "momentous" times for solar power, and clean energy more broadly.
[Tweet ".@ScalingGreen - SEIA: "2015 was a momentous year for solar power in the United States""]