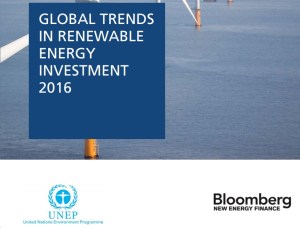 It seems like an eternity, but actually it was only two years ago that crude oil prices were hovering around $100 per barrel. Today, crude oil prices are around $40 per barrel, after rebounding from a low point of under $30 per barrel earlier this year. Given such low oil prices, one would think that the clean energy industry might be having a hard time maintaining its enormous momentum. Yet here we are, with oil prices -- and natural gas prices as well -- at their lowest levels in years, but with wind, solar and other clean energy sources not just holding their own but thriving. A few recent data points highlight what we're talking about.
And definitely check out this graph-filled Bloomberg article ("Why Power Markets Tilt Toward Renewables Even With Cheap Oil"), which notes that: "[c]lean energy projects are getting bigger, attracting more money;" that "[d]eveloping countries are pouring more money into renewables;" that "Clean Energy doesn't compete with oil in the power market;" and as a result that "the link between growth and emissions is breaking."
For more on this topic, see the new report by the United Nations Environment Programme (UNEP) and Bloomberg New Energy Finance on "Global Trends in Renewable Energy Investment 2016."
However, cheaper fossil fuels have not materially damaged prospects for renewables so far. Competition between fossil fuels and renewables is rarely a simple one-or-other choice. Oil does not compete directly with renewable power, except in a few crude-producing countries that burn oil to make electricity, and in remote regions using diesel generators. Gas does compete more directly with wind and solar, but while gas prices in Europe and Asia have fallen, they remain far above US levels. Coal also competes with renewables but, as with gas, decision-makers are unlikely to make power station choices on the basis of short-term spot commodity prices. In addition, new coal-fired plants may be more difficult to finance than those of cleaner technologies, given rising investor concern about exposure to stranded assets and the climate priorities of development banks.

Meanwhile, renewables have their own advantages. Wind farms can be built in nine months or so, solar parks in three-to-six months, whereas coal and gas plants take several years, and nuclear even longer. So developing countries in a hurry for new capacity may opt for speed. And, while fossil fuel costs have been falling, renewables and especially solar have also been getting more competitive.
On that last point, as the report notes, renewable energy costs keep falling, with the "spectacular mover" being solar PV: "The average global levelised cost for crystalline-silicon PV has plummeted from $315 per MWh in Q3 2009 to $122 in late 2015, a drop of 61%, reflecting deflation in module prices, balance-of-plant costs and installation expenses." Of course, as the report notes, this doesn't mean that "all obstacles for renewables have gone away, far from it." Still, the bottom line is that if clean energy can keep booming even at a time of low fossil fuel prices, it's hard to see how its scaling can be stopped or even slowed. Other than, perhaps, by state and federal policies specifically aimed at protecting antiquated, dirty energy sources from being driven out of business by the rising stars -- solar, wind, energy efficiency, energy storage, etc. All in all, though, it's our guess that almost nobody in clean energy would willingly trade places at this point with the fossil fuel folks.