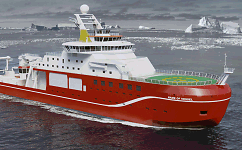 The story of "Boaty McBoatface" is a cautionary one for those looking to use social media to build their brands. In this case, here's what happened:
ASKING THE INTERNET FOR HELP is sometimes a great idea. Other times…not so much.

Thanks to enthusiastic online voters, "Boaty McBoatface" could actually be the new official name for a scientific research ship of the Natural Environment Research Council (NERC).

NERC had the brilliant idea to open an online vote to the public to suggest a name. They've had quite a few suggestions, including "David Attenborough" and "Henry Worsley" — the Antarctic explorer who passed away in January. But Boaty McBoatface is currently the solid frontrunner.

The Name Our Ship website has crashed multiple times recently due to a ton of incoming traffic, thanks to the loyal supporters of Boaty McBoatface.

The winning name will be announced after voting finishes on April 16. NERC seems to be taking the nonconventional name suggestion with grace, at times even tweeting #BoatyMcBoatface along with its hashtag #NameOurShip.
On the one hand, this "Boaty McBoatface" story has brought publicity to to something that otherwise might not have received any attention at all. In this context, to look on the bright side, perhaps it's time to pull out that old Hollywood saying, "there is no such thing as bad publicity?" On the other hand, "Boaty McBoatface" probably isn't what NERC had in mind when they started this contest. But "Boaty McBoatface" it could very well end up being, so perhaps the best option going forward will be to make lemonade out of lemons?
By the way, now that this story has gotten our attention, what is this scientific research ship exactly and why does it matter? First off, NERC " is the leading funder of independent research, training and innovation in environmental science in the UK," investing in "world-leading science, designed to help us sustain and benefit from our natural resources, predict and respond to natural hazards and understand environmental change."
For instance, NERC announced in November 2015 that it was "investing just over £8m in research to ensure we have access to elements needed for a variety of environmental technologies that will provide cleaner energy and more efficient energy usage." That includes "e-tech elements...used in lithium car batteries, solar panels and wind turbines," like "cobalt, tellurium, selenium, neodymium, indium, gallium and heavy rare earth elements."
Thin, cheap solar panels need tellurium, which makes up a meagre 0.0000001 percent of the Earth's crust, making it three times rarer than gold. High-performance batteries need lithium, which is only easily extracted from briny pools in the Andes. Platinum, needed as a catalyst in fuel cells that turn hydrogen into energy, comes almost exclusively from South Africa.
Good stuff. As for "Boaty McBoatface," that's actually "the UK's next world-class polar research ship," slated to sail in 2019 and to "help put the UK at the forefront of ocean research for years to come." That includes "the latest technology and onboard laboratories to help understand the effect of climate change on the Antarctic's climate and ecosystems, as well as the world's ocean circulation and sea levels." Clearly, this is an important mission, particularly in a world that's warming rapidly due to the combustion of fossil fuels. And it will remain important, not to mention serious, even if the name of the ship ends up being the decidedly non-serious "Boaty McBoatface." Hey, at least it's memorable!