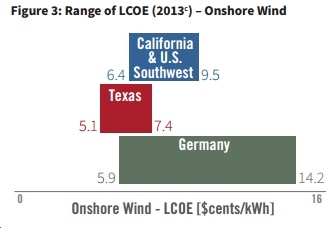 There's a fascinating new study out by researchers at Stanford's Steyer-Taylor Center for Energy Policy and Finance, comparing "the solar PV and onshore wind deployment experiences and policy approaches of California, Texas, and Germany to gain insights into what has worked well – and what hasn't." There's a great deal of information in the report, but here are the 10 top takeaways based on our reading of it.
The Levelized Cost of Energy (LCOE) is not determined by "hard costs" alone.

"Remarkably, solar PV installations in Germany have a levelized cost of electricity (LCOE) similar to those observed in California and Texas – despite the country's significantly poorer solar resource...Germany's surprisingly competitive LCOE numbers point to other factors at play than hard costs alone."

One of the biggest differences in "soft costs" relates to the cost of financing solar power projects.

"With the cost of solar panels and other hardware accounting for an ever smaller share of overall system costs, the surprising similarity in solar PV LCOE values among California, Texas, and Germany points toward 'soft costs', such as the cost of financing, permitting, installation, and grid access, as critical drivers of the observed LCOE numbers. That includes "[f]inancing costs for solar PV projects in Germany...reported to range from 4.4% to 4.8%...compared to 9.6% in the United States...And the transatlantic gap in cost of capital grows even wider when factoring in the current U.S. reliance on federal tax incentives to promote the build-out of solar, wind, and other renewables."

Another important "soft cost" is burdensome permitting.

The U.S. also suffers from "Balkanized, often outdated local zoning and permitting processes" for solar, while "the U.S. solar industry praises Germany for virtually eliminating permitting for basic residential solar installations helping drive installed costs down by up to 40% compared to the United States."

Government policies make a big difference.

"California, Texas, and Germany have achieved their respective deployment numbers for solar PV and onshore wind power through a diverse mix of policies." Renewable energy policy drives include: Feed-in tariffs (Germany, CA), Renewable Portfolio Standards (TX, CA), net energy metering (CA), etc.

Increased renewables are perfectly compatible with grid stability.

"There's a perception that if we go to higher renewables the grid might collapse. The German grid shows that's not the case – as does California's grid, at least for now. And Texas, with a massive increase in wind generation, seems to have managed outage risk in a reasonable fashion to date...Germany's innovative and cost-effective grid management practices have helped maintain the country's high standards of grid stability – exceeding that of California or Texas – while integrating ever-higher shares of intermittent renewables."
To the extent Germans pay more for power, it's driven in large party by expensive natural gas. "German residential customers pay more than twice as much for their electricity as California residents and three times as much as their Texas counterparts," but this has little to do with Germany's "commitment to renewables." Instead, "Germany's energy procurement costs are driven, in large part, by rising natural gas prices in Europe where cheaper U.S. gas is not available."

Thank you Germany!

"We owe a debt of gratitude to Germany to help get those economies of scale up for solar."

Germany made a decision to preserve its international business competitiveness.

"The German parliament deliberately chose to impose most of the financial burden caused by its FIT on residential, rather than industrial ratepayers, in order to preserve the country's international competitiveness," which offers "an explanation why exempt industrial customers in Germany pay significantly lower electricity rates than their California counterparts and only slightly more than industrial ratepayers in Texas."

Germany also chose to incentive energy efficiency via price signals.

"The significant increase in retail electricity prices for residential customers that has accompanied the Energiewende was a conscious policy choice in order to send powerful price signals to incentivize energy efficiency...the price signals embedded in Germany's rising electricity rates are having the intended effect of promoting energy efficiency while also helping to keep residential electricity bills affordable."

German power prices are higher due largely to policy choices.

"The above clarifications do not seek to deny the fact that electricity prices in Germany are significantly higher than in the United States," but it's also important to note that "Germany's FIT levy is but one factor among many that make up Germany's cost differential with California and Texas, many of which reflect careful – and some not so careful – policy choices."