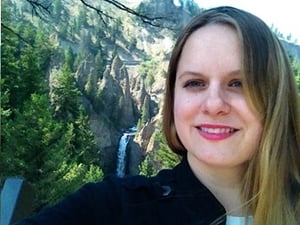 By Sarah Lippincott
Montana's Glacier National Park is nestled in the mountains between lightly habited ranchland, Indian reservations, such as the Blackfeet Indian Reservation, and national forests. Yet, in spite of being located far from urban and industrial areas, the park nonetheless is feeling the impact of climate change. I was reminded of this fact on a recent trip from my home in the Washington, DC area to Glacier National Park, the Grand Tetons and Yellowstone.
While at Glacier National Park, I had the opportunity to view a presentation by Ranger Rebecca titled, "Above the Treeline." The focus of the talk was alpine plants and animals and the impact that retreating glaciers and increasing temperatures in the park -- due to man-made climate change -- are having on a variety of species.
For instance, I learned that snowshoe hares, weasels and ptarmigan, a gamebird, turn from brown to white each winter to better hide themselves from predators in the snow. These animals' fur change in sync with the shorter days (not the air temperature). However, due to the warming climate, their fur stays white too long, leaving them much more visible -- and vulnerable -- to predators. Without the camouflage they evolved over thousands of years to protect themselves, these animals become easier prey, changing the population balance and disrupting the ecology of the park.
The question for humans is what we can do to slow, stop and ultimately reverse the impacts of man-made climate change. In my view, the best option is for our economy to transition off of carbon-based fuels like coal and oil and towards pollution-free energy sources like wind and solar power. At Tigercomm, where I work, that is our primary focus -- accelerating the scale-up of clean energy technologies which help lower carbon pollution, improve the environment -- while giving species like snowshoe hares a fighting chance at survival. My trip to Glacier National Park, the Grand Tetons and Yellowstone (see photos below) was a great reminder of why the work we do at Tigercomm matters. In short, we do this job -- promoting a clean, sustainable energy economy -- because we passionately believe it is the right thing to do for all our futures, humans and hares alike.