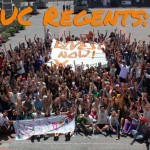 Given the urgent need to stave off the worst impacts of climate change, we've seen movements spring up across the world pushing for governments, universities and other organizations to divest themselves from fossil fuels. Over the past two weeks, there have been significant development along these lines in California, as reported by InsideClimate News:
The growing fossil fuel divestment movement snagged what its proponents consider a significant victory as the University of California announced Wednesday that it had successfully purged its $200 million in coal and oil sands holdings.

...This news came a week after the California legislature passed a bill mandating that the state's two major public pension funds, worth a combined nearly $500 billion, divest their less than one percent holdings in coal.

The University of California—one of the largest university systems in the world—is made up of 10 campuses and 238,000 students. The school's investment portfolio is made up of five funds totaling about $98 billion. School officials say all direct holdings in coal and oil sands have been sold from these funds, but the school's indirect holdings may still be tied up in such companies.
Of course, even in these cases, we're not talking about full divestment from all fossil fuels. Still, it's progress, and therefore worth celebrating. It's also turning into what looks very much like a trend. For a longer list of divestment commitments - from foundations, faith groups, pension funds, governmental organizations, colleges and universities, NGOs, etc. - see here. Also note the news back in June that Norway's $890 billion pension fund, "considered the largest sovereign wealth fund in the world, will sell off many of its investments related to coal, making it the biggest institution yet to join a growing international movement to abandon at least some fossil fuel stocks."
Finally, more good news came last week, with France's government "ending export subsidies for building coal plants abroad, as the country tries to clean up its environmental reputation before hosting landmark U.N. climate talks." In that case, it wasn't divestment per se, but it was a smart move to get France out of the coal corporate welfare business. Now, we need governments around the world to follow suit: divest from fossil fuel holdings, stop subsidizing dirty energy, and implement policies that provide a fair playing field for the booming clean energy industry to compete.