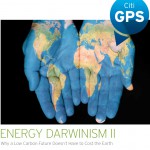 For investors looking at the energy sector and considering where to put their money, there's increasing evidence that cutting-edge clean energy, not dirty energy, is the place to be.
Evidence? One of the largest financial institutions in the world - Citi - is out with a data-dense, fascinating 132-page report, one which confirms (yet again) that a "low-carbon future" not only "doesn't have to cost the Earth," but in fact could end up being a great deal both environmentally and economically.
Key findings:
It's less expensive to go "low carbon" than to stick with fossil fuels. Over the next 25 years, Citi says that "the cost of following a low carbon route at $190.2 trillion is actually cheaper than our 'Inaction' scenario at $192 trillion." This is "due to the rapidly falling costs of renewables, which combined with lower fuel usage from energy efficiency investments actually result in significantly lower long term fuel bill."
Investing in clean energy is relatively attractive. Citi compares the cost of mitigation to the avoided "liabilities" of climate change and comes up with a "return on investment" calculation. According to Citi, "this implies a return of 1-4% at the low point in 2021, rising to between 3% and 10% by 2035." Although "not spectacular returns, against current low yields (and given the potential consequences), it represents a relatively attractive option," in Citi's view.
There are potentially $100 trillion worth of "stranded" fossil fuel assets. According to Citi, "if we are serious about meeting the 'carbon budget' and have a chance of limiting temperature increase to 2°C, then globally one-third of oil reserves, half of gas reserves and 80% of coal reserves would have to remain in the ground." The value of those fossil fuels? Citi estimates "the total value of stranded assets could be over $100 trillion based on current market prices," while "some conventional resources are already effectively stranded from an economic point of view."
Facilitating a rapid move from dirty to clean energy offers "very large opportunities for the financial world." Citi says that there are "investor groups representing tens of trillions of dollars under management committed to investing in a more environmentally friendly manner." What's been holding them back "has been the lack of, and in particular the quality of many of the investment opportunities available." Thus, "[b]ridging the gap between investors and the need for investment will be key in facilitating our energy transformation," and that in turn will require "significant innovation" in credit markets.
"Why would you not" switch to clean energy economy? Citi concludes that, given the "limited differential in the total bill of Action vs Inaction (in fact a saving on an undiscounted basis)," along with "potentially enormous liabilities avoided and the simple fact that cleaner air must be preferable to pollution," there's "a very strong 'Why would you not?' argument regarding action on climate change."
Companies like Citi are realizing what sustainable organizations like Ceres and Trillium Asset Management (full disclosure: both are clients of Tigercomm) have also put into practice: that it's essential to take long-term environmental, social and economic sustainability into account when deciding where to invest. Ceres has taken this one step further, forming the Investor Network on Climate Risk (INCR), "a network of more than 110 institutional investors representing more than $13 trillion in assets committed to addressing the risks and seizing the opportunities resulting from climate change and other sustainability challenges … to build a sustainable economy, one that meets the needs of people today without compromising the needs of future generations."
As for Trillium Asset Management, last September it announced its support for a commitment by global corporations and investors to "climate change disclosure as a matter of fiduciary duty." According to Trillium Asset Management, "[t]his represents a game-changing collective commitment and practical step capable of enabling positive change in economic and financial market activity at scale."
The bottom line of all this is clear: the growing clamor by major corporations across sectors, along with investment houses big and small, for greater access to renewables is based on reasoning well-grounded, indeed inevitable, for economic and sustainability reasons alike. The question is how fast this transition moves. That, in turn, largely comes down to policy choices. Which means, as we've argued for several years, that we must work to reduce - and ultimately remove - the obstacles to clean energy scaling imposed on our political system by powerful, wealthy, entrenched "incumbent" industries such as oil and coal. Only then will investors, and society as a whole, be able to reap the full benefits of the burgeoning clean energy revolution.
The full Citi report can be found here.
Also, there are several excellent summaries of this report at: RenewEconomy, one by Vox and The Guardian.