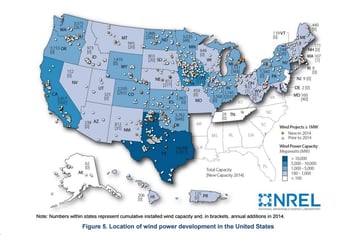 On Monday, Chris Mooney of the Washington Post highlighted the "U.S. wind energy boom" and how it "couldn't be coming at a better time...when it comes to reducing carbon emissions." Mooney's article was based heavily on two new reports by the U.S. Department of Energy -- the 2014 Wind Technologies Market Report and the 2014 Distributed Wind Market Report -- both of which are well worth reading. We've taken a look, and here are a few key points.
After a "Lackluster" 2013, Wind Power Grew in 2014: "Wind power additions rebounded in 2014, with 4,854 MW of new capacity added in the United States and $8.3 billion invested."
"Wind power represented 24% of electric-generating capacity additions in 2014. Wind power was the third-largest source of new generation capacity in 2014, after natural gas and solar. Since 2007, wind power has represented 33% of all U.S. capacity additions..."
"Lower turbine prices have driven reductions in reported installed project costs. The capacity-weighted average installed project cost within our 2014 sample stood at roughly $1,710/kW—down $580/kW from the apparent peak in average reported costs in 2009 and 2010."
"Wind PPA prices have reached all-time lows. After topping out at nearly $70/MWh for PPAs executed in 2009, the national average levelized price of wind PPAs that were signed in 2014 (and that are within the Berkeley Lab sample) fell to around $23.5/MWh nationwide—a new low" and "below the bottom of the range of nationwide wholesale power prices."
"Turbine nameplate capacity, hub height, and rotor diameter have all increased significantly over the long term. The average nameplate capacity of newly installed wind turbines in the United States in 2014 was 1.9 MW, up 172% since 1998–1999. The average hub height in 2014 was 82.7 meters, up 48% since 1998-1999, while the average rotor diameter was 99.4 meters, up 108% since 1998–1999."
"No commercial offshore turbines have been commissioned in the United States, but progress toward the first U.S. offshore wind project in Rhode Island continued in 2015 amid mixed market signals...A total of 18 offshore wind projects (15 GW) are in various stages of development in the continental United States. "
"Availability of federal incentives for wind projects built in the near term is leading to a resurgent domestic market, but a possible policy cliff awaits...With the PTC now expired and its renewal uncertain, however, wind deployment beyond 2016 is also uncertain. On the other hand, the prospective impacts of EPA's proposed regulations on power-sector carbon emissions may create new markets for wind energy. "
"U.S. Distributed Wind Capacity Nearing 1 GW: Distributed wind cumulative capacity has reached a total of 906 MW from nearly 74,000 wind turbines."
Distributed Wind Capacity Mostly "Grid-Tied": "Off-grid small wind turbines continue to account for the bulk of wind turbine units deployed in U.S. distributed wind applications; however, wind turbines connected to the distribution grid, or "grid-tied" applications, accounted for more than 99% of the annual domestic distributed wind capacity (in terms of MW)."
Small Wind Turbine Manufacturers Look to Export Markets for Revenue: "Exports continue to provide a steady source of revenue for U.S. small wind turbine manufacturers who see growing potential in the opening and expansion of markets abroad, such as Japan and South Korea."
Overall, these reports deliver highly encouraging news when it comes to the U.S. wind power industry, and as Chris Mooney points out, that news "couldn't be coming at a better time." Now, the challenge will be for federal and state policymakers to ensure a favorable policy environment for continued growth in abundant, clean, increasingly inexpensive wind power in the years to come.