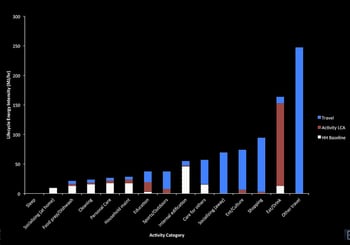 Over the years, I've heard people (mostly those who make more money by selling more energy) argue that there's a positive correlation between human happiness and energy consumption. And while there may be some truth to that assertion, new research finds that there's actually a "surprising link between things that make us happy and things that save energy."
Examined closely, suggests Kantenbacher, the chart is kind of like a roadmap to living a life that is both a lot happier and much healthier -- accompanied with lower electricity bills and a lower carbon footprint.

"A number of the least energy intensive activities that I found -- sleeping, socializing, hobbies, and so forth -- are enriching personally," says Kantenbacher. "So they make people happy to do them, but they also are relatively low consuming activities."

Indeed, let's take some of these activities in sequence, to unpack what the research shows about how they boost happiness and well being (while saving energy):
As you can see from the graphic, the least energy-intensive activities are things like sleep, socializing, volunteering, finding a hobby, getting more exercise, and not spending a lot of time (and energy) time commuting if possible. Even better, I'd add, would be to do that sleeping, socializing, volunteering, etc. in buildings that are as energy efficient as possible, not to mention powered by clean, renewable energy. With that, have a happy - and restful - holiday season!
P.S. To view Kantenbacher's presentation, click here.