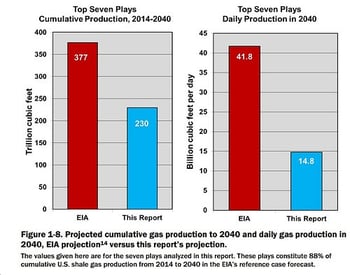 According to the U.S. government's latest long-term forecast, the country can expect a "56% increase in total natural gas production from 2012 to 2040," with shale gas production "the largest contributor, growing by more than 10 Tcf" through 2040; and with "tight gas" production also growing sharply over that time period.
As for "tight oil," the official U.S. government forecast has it growing through 2021, after which it gradually falls through 2040, at which point it is still nearly 1 million barrels per day higher than it was in 2012. In sum, the official U.S. government forecast for the U.S. oil and natural gas "fracking" boom is most definitely bullish, particularly for natural gas but also for oil. But is this actually true?
Not according to the Post Carbon Institute (PCI), which is out with a new study called "Drilling Deeper: A Reality Check on U.S. Government Forecasts for a Lasting Tight Oil & Shale Gas Boom." A few key points from this report are:
"Rosy expectations of future [U.S. oil and gas] production," due largely to "widespread use of horizontal drilling and hydraulic fracturing ('fracking')" technology, are "influencing climate policy, foreign policy, and investments in alternative energy sources."
Those "rosy expectations" are largely unwarranted, as "the current boom in domestic oil and gas production is unsustainable at the rates projected by the EIA."
The problem is that current U.S. energy policy, which is based heavily on the false "expectation of domestic oil and natural gas abundance far into the future," is therefore "badly misguided and is setting the country up for a painful, costly, and unexpected shock when the boom ends."
Specifically, PCI finds that "[t]ight oil production from major plays will peak before 2020," and that "[b]arring major new discoveries on the scale of the Bakken or Eagle Ford, production will be far below EIA's forecast by 2040," possibly even "less than a tenth" of what EIA projects.
As for natural gas, PCI finds that by 2040, production from the "top seven plays" will be just "one-third that of the EIA forecast."
PCI argues that EIA's optimistic forecasts are based on several "false premises," including that "there will be always be new discoveries and production from emerging plays to fill the gap left by declining production from major existing plays," and that "technological advances can overcome steep decline rates and declining well quality as drilling moves from sweet spots to poorer quality rock."
PCI makes a persuasive case that, given the "false premises" of abundant oil and natural gas "fracking" for decades to come, the U.S. public and policymakers have been led to believe "a number of false promises." Those include: "a domestic manufacturing resurgence and millions of new jobs;" " fast-tracking approval of liquefied natural gas (LNG) export terminals; relying on natural gas for major reductions in carbon dioxide pollution "as a result of natural gas replacing coal as the primary source of electricity production."
Finally, PCI gets to the gist of the problem with all this. In sum, if the oil and gas fracking boom really has been overhyped, and if U.S. energy policy really is based heavily on false premises, then we're heading down a potentially costly, even dangerous, blind alley. That's a big mistake.
Instead, in PCI's (and our) view, what we really should be doing right now is "harness[ing] this temporary fossil fuel bounty to quickly develop a truly sustainable energy policy—one that is based on conservation, efficiency, and a rapid transition to distributed renewable energy production."