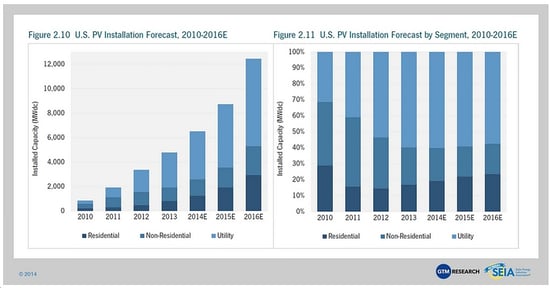 The Solar Energy Industries Association (SEIA) is out with its Solar Market Insight Report for the 2nd quarter of 2014, and it's overwhelmingly "sunny" news. Here are a few highlights:
"The U.S. solar market had another strong quarter in Q2 2014. Photovoltaic (PV) installations reached 1,133 MWdc in Q2, up 21% over the same quarter in 2013."
Solar power accounted for 53% of new U.S. electric generation capacity in the first half of 2014. That put solar ahead of natural gas (30%) and wind power (14%).
Utility PV procurement is surging, as "utility-scale solar project developers have amassed more than 3 gigawatts of new contracts over the past twelve months" This is a result of solar's "increasing cost-competitiveness, along with a variety of new procurement mechanisms."
The "residential solar juggernaut continues," and "its momentum shows no signs of slowing."
The top five states for solar PV installation in the 2nd quarter of 2014 were: California, Massachusetts, New Mexico, New Jersey and North Carolina.
Solar power in the U.S. is increasingly becoming "mainstream," as "solar PV has moved light years ahead of where it stood back in the first half of 2012" (e.g., utility solar PV cumulative installations have quadrupled).
Utilities are starting to jump into the residential solar power market: "the two major utilities in Arizona (Arizona Public Service and Tucson Electric Power) are now the first utilities in the U.S. to formally propose plans to own rooftop solar on residential customers' homes."
As you can see in the graph above, U.S. PV installations will hit 6.5 GW in 2014, up 36% from 2013. PV installations are projected to surpass 8 GW in 2015 and 12 GW in 2016.
One cloud in the otherwise bright outlook: "looking ahead, systemic challenges to growth loom both in the near term (e.g., the recent U.S.-China tariff decision) and medium term (e.g., the federal ITC's scheduled dropdown at the end of 2016). Nevertheless, the first half of 2014 showcased innovative financing strategies, evolving utility business models, and solar's increasing economic competitiveness with fossil fuels, all of which offer encouraging signs of the U.S. market's ability to weather barriers to growth and further push solar PV into the mainstream."