by Mike Casey, President of Tigercomm
I'm in Boston this week for the Inbound 2014 conference, the major focus of which is transforming the way people connect with products and services. The Inbound "Movement," as they describe it, is rooted in the premise of companies being useful to customers. Part of that is making the customer experience smooth - even pleasurable. How ironic to have my first first experience in Boston be running headlong into Hilton's clunky "Honors" program sign-up.
Familiar steps: Check into the hotel, unpack bags, crack laptop. Get this pop-up window: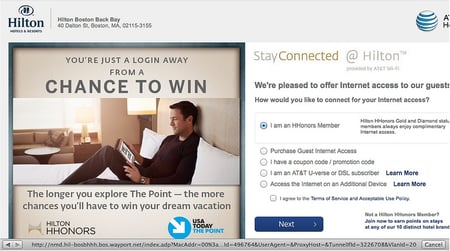 The wireless access was $15. Kudos to Hilton for steering me to their "Honors" program with the enticement of immediate savings.
However, when I went to the "Join now to earn points on stays at any of our 10 distinct hotel brands," button, I didn't get the opportunity to sign into "Hilton Honors". Instead, I got a blank page, with only a "Join" button highlighted.
Next, after clicking on the highlighted "Join" button, I was taken right back to the prior page.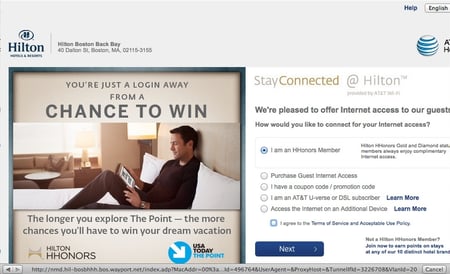 Your basic tape loop. I tried the mobile interface as well, and it was little different, except that it gave a "call us now" option. When I selected that, I was routed to auto-attendant. I short-circuited that by hitting the "zero." I was then given to a general reservations number, from where I was transferred to a "Hilton Honors" representative who was required, it seemed, to talk me through the "jaw dropping" savings on dream vacation packages. I explained I wasn't interested in those and just wanted to sign up for internet access. He ignored me - twice - and went on with the unwanted sales pitch. After interrupting the guy as politely as I could, twice, it became clear that his training was not to give up the phone. He kept right on with the sales pitch. I hung up.
Finally, I went to the front desk where a nice front desk staffer, Jordan, took my basic information on a sheet of paper and said she'd have me signed up. Could I get the charge for the Internet charge reversed when I signed up? No problem, Jordan just gave me a coupon to avoid the charge altogether.
Thank you Jordan. Hilton's online interface could learn from you.
UPDATE: Hilton Honors responded to our post with the form-like response below. This contrasts sharply with the individualized response we received from Southwest Airlines in 2012, when we wrote how the airline's Director of Rapid Rewards, Jonathan Clarkson, called us about the problems of the airlines turning over its brand control to an out-of-control credit card solicitation process of a bank.
Thank you for your inquiry regarding the feedback. We appreciate you taking the time to contact us.
I would like to thank you for your feedback regarding internet access and enrolling at our hotel. Feedback from our valued members is beneficial in this process. I will make sure this is forwarded to our web site department for review.
If there is anything else we can assist you with, please do not hesitate to contact us. For immediate assistance, please click on the link below for the contact number of the Hilton Worldwide Service Center location nearest you.
http://hhonors3.hilton.com/en/support/index.html
Best regards,
Amanda H.
Email Coordinator
Customer Care Email Department
Hilton Reservations and Customer Care