Reported by: Bridgette N. Borst
Video and photography by: Jacob Miller
Earlier this month, Johnson Controls held its 25th annual Energy Efficiency Forum at the National Press Club in Washington, D.C. After a quarter-century, Johnson Controls continues to encourage the discussion of key topics related to energy efficiency and the positive impact of reduced energy consumption on the environment, national security, and economic growth.
The forum provided an impressive line-up of speakers, a networking reception and the release of the annual Energy Efficiency Indicator survey, which highlights trends and provides new insights into energy management and investment decisions. Our Scaling Green team had the opportunity to speak with Johnson Controls' Vice President of Global Energy and Sustainability, Clay Nesler, who shared with us a few key highlights from the 2014 Energy Efficiency Indicator report. Nesler's overall point was a crucial one, that "energy efficiency is a great way to save money, reduce carbon emissions [and] put lots of people to work in good-paying, local jobs." Energy efficiency is also, as Nesler further explained, "one of the key four building blocks that states will be able to comply with the part 111-D Rule" (the EPA's recently-announced proposal for reductions of carbon pollution from existing fossil fuel power plants).
U.S. Environmental Protection Agency (EPA) Administrator Gina McCarthy was the forum's keynote speaker. Conference attendees were especially interested in hearing from McCarthy following the release by her agency three weeks ago of the first-ever rule that limits carbon pollution from existing U.S. power plants.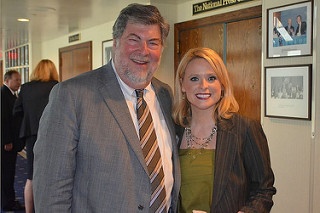 Additionally, Dennis McGinn, the Assistant Secretary of the Navy for Energy, Installations and Environment; and John Hoeven, U.S. Senator from North Dakota, were both speakers at this year's forum. Many attendees, such as Gregg Merritt, Vice President of Marketing at Cree (see his comments on the video) and Peter Kimmel of FM Benchmarking told us that they were excited to hear from this year's speakers at the Energy Efficiency forum and to learn more about the development of energy-efficient technologies and market opportunities.
In between sessions, our Scaling Green crew interviewed guest speakers including Roger Duncan, Research Fellow at the University of Texas and Chairman of the Board for the Pecan Street Project; Trisha Miller, Senior Advisor of the Office of Economic Resilience at the U.S. Department of Housing and Urban Development (HUD), and Maria Koetter, Director of Sustainability for the City of Louisville. You can listen to what they had to say in the video. In general, though, it's fair to say that throughout the conference, attendees heard a consistent, shared message from the speakers – namely, the importance of advocating for common-sense strategies that optimize productivity, drive sustainability, and increase energy efficiency.