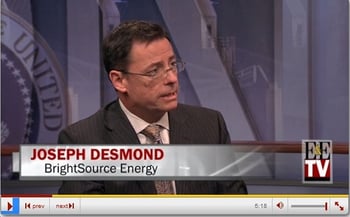 A bit earlier today, Joseph Desmond of BrightSource Energy appeared on EETV to talk about how the recently-inaugurated Ivanpah concentrating solar power (CSP) facility is not only "relevant," but a model for future projects. Asked whether "a project of this nature is no longer relevant or would no longer to be relevant to be built new starting today," Desmond responded:
No, I actually think it's quite the opposite. So the tower technology itself is an evolution of previous trough technology, and the reason we went to the tower was to achieve higher temperature and higher pressures, which allow us to use more efficient turbines. But when you look at the technology, what we're really talking about is being able to create solar steam, and that steam can be used for certainly renewable energy, but also enhanced oil recovery, desalinization and industrial market processes. So as we think about the technology itself going forward, there are still opportunities to improve both in its performance, in the ability -- how it's controlled, in the optimization. So there's still room for improvement.

...we have several projects in the pipeline that are based on the tower technology, one in Southern California going through the permitting process. But we're also working internationally, and as BrightSource we're now very much a technology company. So we provide the solar field engineering services, layout and design, and the core software that controls that, and we look to partner with other companies.
You can click on the image above to view the entire interview with Joseph Desmond. Also, check out Tigercomm Executive Vice President Mark Sokolove's recent post talking about how Ivanpah is both "inspirational and aspirational" for CSP worldwide.