by Tigercomm Executive Vice President Mark Sokolove
Seven.
The number of days in the week? The number of deadly sins?
Yes, the correct answer to both of those questions is indeed "seven," but that's not what I'm getting at here. Instead, I'm referring to the number of times that NRG President and CEO David Crane has visited the 392-megawatt Ivanpah solar thermal power plant, which went online last week in California's Mojave Desert. Crane's seven visits even include one tour with former President Bill Clinton.
The number of times David Crane has toured Ivanpah is impressive for two main reasons. First, because NRG isn't located anywhere near the Mojave Desert, so Crane had to go well out of his way to get there -- let alone seven times. Second, because NRG has a huge portfolio of energy projects ("47,000 megawatts, capable of supporting almost 40 million homes"), and Crane has stated that he tries to visit each of them at least once.
So what is it about the Ivanpah project that keeps Crane - and many other people - coming back, other than the fact that NRG played a major role (along with Google, BrightSource Energy and other investors) in building it?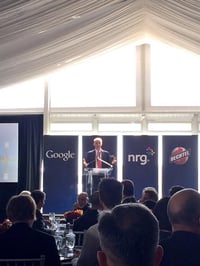 During the ribbon-cutting ceremony for Ivanpah's grand opening, Crane spoke about how this solar thermal facility is both "inspirational and aspirational." Last June, I focused on the "inspirational" part, writing that the project was both technically impressive and beautiful. For instance, it uses more than 300,000 computer-controlled mirrors (installed at a rate of one mirror every minute!) that track the sun in three dimensions, reflecting sunlight onto three, 459-foot-tall towers, and creating super-heated steam to drive turbines and produce electricity. It's also amazing how the mirrors are tilted at different angles, so that they can do their job of producing energy while simultaneously making it clear to birds that this isn't a lake they might want to land on.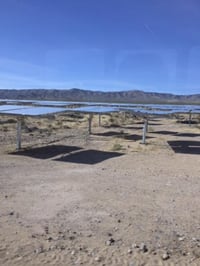 Now, I want to turn to the "aspirational" part of what Crane was talking about; namely, the tremendous potential for growth in solar power generally, and concentrating solar power (CSP) projects specifically, in the U.S. and around the world. Until recently, CSP technology has been relatively unproven at such a massive scale. Which is partly why BrightSource Energy CEO David Ramm says that "our challenge was to build Ivanpah to demonstrate the technology works at commercial scale."
Now that Ivanpah's built and working as expected, Greentech Media explains that investors and policymakers around the world can feel more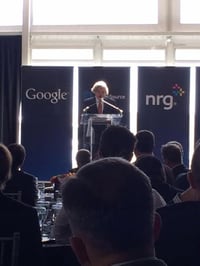 confident about "committing to the technology." In addition, construction of Ivanpah demonstrated tremendous economies of scale, with "the costs for building Ivanpah's third tower...significantly lower than those for the first." Storage capacity will help even more with the economics of CSP, encouraging growth of a technology which currently has about 2 gigawatts worth of capacity "finally coming on-line, starting with Abengoa's Solana Generating Station and the first phase of NextEra's Genesis solar project." The future could see enormous growth in CSP in places like the Middle East (e.g., Saudi Arabia is looking at adding up to 25 gigawatts of CSP by 2032), India (see here for more on that country's large-scale CSP plans), China and South Africa.
No wonder why Solar Foundation Executive Director Andrea Leucke calls Ivanpah "a very big deal, a milestone, a game changer." And no wonder why Energy Secretary Ernest Moniz said at the Ivanpah dedication that "this project is a symbol of the exciting progress we are seeing across the industry." Secretary Moniz is right: it's an exciting time for solar power, including CSP, with Ivanpah just the latest "inspirational and aspirational" success story.