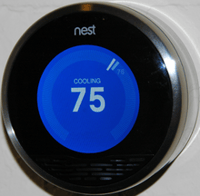 We've written many times here at Scaling Green about the enormous potential which energy efficiency holds. We've addressed the question of whether energy efficiency is condemned to be an "eat your peas" technology, or whether it's just not "sexy" enough to compete with other, flashier energy sources for attention. We've talked about the International Energy Agency report focusing on energy efficiency, which asks the question, "Is energy efficiency not just a hidden fuel but rather the world's first fuel?" And we've highlighted a McKinsey & Company report which found that "by making the manufacturing sector more efficient, the United States could reduce primary industrial energy consumption 21 percent by 2020 — saving U.S. industry $47 billion per year."
Clearly, energy efficiency provides enormous "bang for the buck." To date, though, while it's been extremely successful in keeping U.S. energy consumption relatively flat for several decades now, even as the economy has grown tremendously, it's been somewhat of the "Rodney Dangerfield" of energy, getting little if "no respect." Now, that situation appears to be changing in a big way, as some of the largest corporations in the world jump into the energy efficiency field in a big way. For instance, check out this excellent piece by Clean Edge's Senior Analyst James Belcher, which focuses on Google's acquisition of Nest -- maker of "an electronic, programmable, and self-learning Wi-Fi-enabled thermostat that optimizes heating and cooling of homes and businesses to conserve electricity." Here's Belcher's take on what this signifies:
When Google bought Nest last week for $3.2 billion, I was a bit surprised. I had figured the learning thermostat maker was on the IPO track. Google had also retired its own PowerMeter energy monitoring project in 2011. There were more than a few PowerMeter postmortems which stressed that "Google isn't an energy company." That's still true, but it is a big data company, and its planet-serving data centers give it a strong ongoing interest in promoting energy efficiency. So its swoop back into the space makes plenty of sense. At Clean Edge we're also hearing that there are similar conversations happening between other major technology providers and energy firms.

The Nest acquisition is a milestone for behavioral change and energy use. Everyone involved in producing electricity, and most of the people using it, understand that cutting end use is easier than creating new solar panels or drilling for more oil. Opower estimates that behavioral energy efficiency programs alone could save the U.S. over 18 million megawatt-hours (MWh) of electricity per year. So a growing number of electric utilities now have such programs—both homegrown and in partnership with firms like Opower and Tendril...

On the utility side, the market for behavioral energy efficiency is reaching a tipping point, as the majority considers joining early progressive adopters of its techniques and technology. Tendril CEO Adrian Tuck says that about 20 percent of U.S. electric utilities are now prepping seriously for energy efficiency, grid intelligence, and distributed generation—and that the other 80 percent are just watching. "That's a very precarious place to be," he notes.
We agree: it's time to get serious about energy efficiency (as well as the smart grid and distributed power), if for no other reason than ignoring these things could be disastrous for one's business. Google certainly understands that, and is acting accordingly.