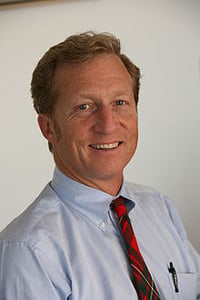 There have been a spate of stories recently in the national media about billionaire investor and clean energy proponent Tom Steyer, who we first highlighted on this blog back in February 2013. At that time, Steyer addressed a 35,000-strong rally against the Keystone XL pipeline and for a clean energy on the National Mall in Washington, DC, arguing passionately that "we can't afford 40 more years of dirty energy," that "we have to dare to say no to the Keystone pipeline," and that "today we have to decide to invent a cleaner, safer, cheaper energy future together."
Since then, Steyer's been busy working to achieve those goals. Most recently, as USA Today reports, Steyer (through his NextGen Climate Action PAC) "spent $8 million in the Virginia [governor's] race — ranging from a get-out-the-vote field operation to ads that slammed [Republican gubernatorial candidate Ken] Cuccinelli for starting to investigate the activities of a former University of Virginia climate researcher." In the end, Cuccinelli lost the race, and in Steyer's view this sent a message; namely, that "if you are a climate denier, you face enormous risk."
Politico has more detail on the "green billionaire's Virginia crusade," including that Steyer spent "$3.1 million in TV advertising, $1.2 million in digital ads, 12 different pieces of campaign mail, a field program that hit 62,000 households on get-out-the-vote weekend and even a Cuccinelli impersonator who showed up at public events carrying a briefcase of mock cash to attack the Republican's ethics." And while the Virginia elections were important in their own right, the Politico article makes it clear that Steyer viewed the state as - at least in part - a testing ground for strategies and tactics that he can bring to bear nationally. Which is exactly what he intends to do, as he made crystal clear in a "a post-election video touting his work in the state and assuring his supporters that no climate-denying candidate can escape his wrath."
Finally, we should note that Steyer has also been fighting hard against the Keystone XL tar sands pipeline, including calling out Canadian Prime Minister Stephen Harper and also TransCanada CEO Russ Girling. In our view, it's high time that pro-clean-energy forces had a wealthy, dedicated ally on our side. Given the untold millions that fossil fuel interests have poured into capturing our political system to their benefit, it's encouraging to see Tom Steyer helping to level the playing field. More broadly, it's great that those of us who support clean energy scaling finally have someone with the commitment - not to mention the financial resources - to change the politics around climate and energy as a way of changing national policy for the better. Thank you Tom Steyer.