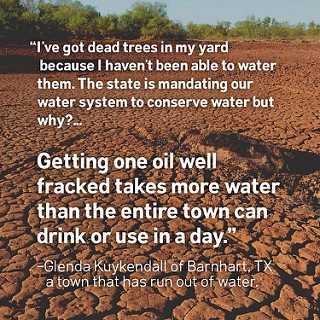 Among the many problems associated with hydraulic fracturing ("fracking") for oil and gas - methane leakage, water contamination, etc. - there's another problem that's bordering on existential - running out of water completely.
Three years of drought, decades of overuse and now the oil industry's outsize demands on water for fracking are running down reservoirs and underground aquifers. And climate change is making things worse.

In Texas alone, about 30 communities could run out of water by the end of the year, according to the Texas Commission on Environmental Quality.

Nearly 15 million people are living under some form of water rationing, barred from freely sprinkling their lawns or refilling their swimming pools. In Barnhart's case, the well appears to have run dry because the water was being extracted for shale gas fracking.
In other words, even if we somehow, miraculously, manage to avoid contaminating our water supplies with fracking, the bottom line is that we simply don't have the water to give the oil and gas guys for this incredibly wasteful practice. As the above graphic from 350.org eloquently puts it, the choice is between: a) an entire town having enough water to live, to water their trees and their crops, to take showers, etc. for a full day versus b) "getting one oil well fracked." We're pretty sure which option the vast majority of people would choose. Except for the oil and gas companies, of course; they've clearly got very different priorities than the rest of us.