Want to see what "environmentally responsible" tar sands looks like? Here it is (photo by Getty Images):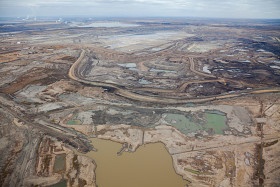 For a bit more background on this environmental disaster, click here.
"Now, you can't drink water from the river. It's too dangerous," Ladouceur told The Huffington Post, taking a break from chopping wood. "We're seeing deformed fish, which I'd never seen in my whole entire years. And something in that water is killing the muskrats."

Ladouceur lives some 100 miles downstream from the heart of Alberta's oil sands development. The sands underlie about 140,000 square kilometers (54,000 square miles) of Canadian boreal forest and peat bogs -- an area about the size of Florida -- and hold around 170 billion barrels of recoverable oil. Since mining began in 1967, at least two-thirds of the land has been leased for extraction with mining operations on about 715 square kilometers (276 square miles).

"Chemicals have been coming down here for years, ever since the oil companies got started," Ladouceur said, adding that, when the winds are blowing right, he can smell the tar-like stench and see the pollution "hanging in the air."
Digusting, and it's all courtesy of a company, Suncor, which touts its "responsible development" and promises "a big environmental payoff." Apparently, Suncor sees no contradiction between "big environmental payoff" and "something in that water is killing the muskrats." I guess that's what you can say when you're a big, powerful oil company with essentially unlimited resources available to spread your propaganda.