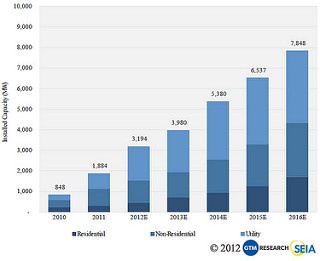 The Solar Energy Industries Assocation (SEIA), along with GTM Research, is out with its U.S. Solar Market Insight report for the third quarter of 2012, and it's a good one. Here are a few highlights, bolding added by us for emphasis.
The "U.S. solar photovoltaics (PV) market installed 684 megawatts (MW) in the third quarter (Q3) of 2012, representing 44 percent growth over the same period last year."
"This quarter marked the third largest on record for the U.S. PV industry and raised the total installed capacity through the first three quarters of the year to 1,992 MW — already surpassing 2011's annual total of 1,885 MW."
"Combined with concentrating solar power facilities (CSP), which convert the sun's heat to electricity, there are more than 6.4 GW of solar electric capacity installed in the U.S., enough to power more than one million average American households."
"The third quarter featured strong growth in distributed generation (DG) markets; the residential PV sector installed more than 118 MW, an all-time high for a quarter, while the commercial market (including governmental and institutional facilities) hit 257 MW, rising 24 percent above last quarter."
According to GTM's vice president of research, Shayle Kann, "While Q3 2012 was remarkable for the U.S. PV market, it is just the opening act for what we expect to see in Q4. We forecast more than 1.2 GW of PV to be installed next quarter on the back of developers who are pushing to meet year-end deadlines in both the utility and commercial segments. We also expect to see the residential PV market post another record number in Q4, as third-party residential installers gain more traction in mature, cost-effective markets."
According to SEIA President Rhone Resch, "With costs continuing to come down and new financing options, solar energy is affordable today for more families, businesses, utilities, and the military. Thanks to smart long-term policy, the solar industry is growing to meet the challenge of putting Americans back to work and helping to grow both our nation's economy and our clean energy portfolio."
"System prices for PV projects in the U.S. continued their downward trajectory in third quarter 2012. Average residential system prices dropped quarter-over-quarter from $5.45 per watt to $5.21 per watt nationally while average non-residential prices declined 15 cents per watt, falling to $4.18."
All of this is excellent news, now the key is to keep it going in 2013 and beyond.