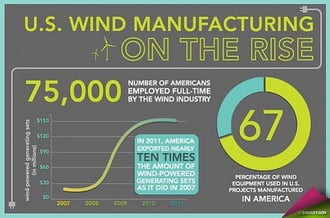 This morning, the U.S. Department of Energy (DOE) released a new report on the current state of wind power in the United States, including trends through 2011. DOE Press Secretary Damien LaVera highlighted, on Twitter, several key findings from the report.
In addition, the report pointed out that wind turbine prices have been falling steadily since 2008; that wind project capacity factors are improving; that a "growing percentage of the equipment used in U.S. wind power projects has been sourced domestically in recent years;" and that six U.S. states now exceed 10% wind energy penetration.
It's not all good news, though. The main source of concern is clearly "the possible expiration of federal incentives at the end of 2012." Combined with "low natural gas prices and modest electricity demand growth," that expiration "threatens to dramatically slow new builds in 2013." Let's hope that doesn't occur, so that the positive trends we've been seeing in the U.S. wind power industry can continue for many years to come.