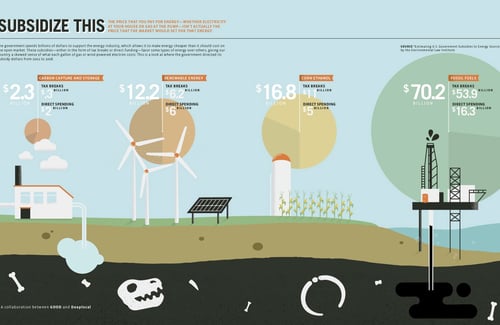 As the saying goes, a picture speaks a thousand words, and this case is certainly no exception. Thanks to Greentechmedia and to GOOD magazine and graphics partner DeepLocal for powerfully illustrating, in one concise infographic (click on the image above for a larger version), "just how stuffed the fossil fuel industry has gotten on government tax breaks and cash handouts, while the much smaller share of federal backing that goes to renewable energy has been the target of congressional investigations." As the statistics clearly show, it's not even close.
Between 2002 and 2008, just $12.2 billion went to renewable energy over that time period, compared to $16.8 billion went to corn ethanol and a whopping $70.2 billion to fossil fuels.
"Over the past 15 years, federal support for the oil and gas industry has been five times that for renewables...according to DBL Investors Managing Partner Nancy Pfund.
From 1918 to 2009, "average annual support for the oil and gas industry has been $4.86 billion," compared to just "$0.37 billion for renewable energy between 1994 and 2009."
Finally, carbon capture - "an absolutely essential technology if we're to keep the grid running on coal-fired power while avoiding global warming catastrophe -- took in $2 billion in government subsidies from 2002 to 2008, according to GOOD's data."
So, next time somebody tries to tell you that clean energy can only survive with subsidies, or that fossil fuels are some sort of great success story of free-market capitalism and rugged individualism, just send them the handy infographic. End of argument.