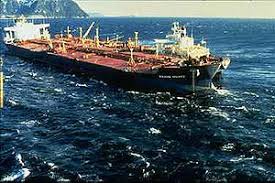 Earlier this week, U.S. Interior Secretary Ken Salazar announced that, "with the conditions Shell has already met, it is highly likely the permits will be issued" for oil drilling in the Beaufort and Chukchi seas offshore Alaska. According to Secretary Salazar, development of these oil fields will "contribute to the 'all-of-the-above' energy strategy this administration is pursuing," and "will not take place without adequate protections for the environment and local communities." In fact, Secretary Salazar is so confident about this oil drilling that he declared uncategorically, "there's not going to be an oil spill."
With all due respect, we beg to differ with Secretary Salazar for several reasons.
First, we do not believe that continuing to pursue a strategy which relies heavily on fossil fuels is the direction we should be going as a nation. Instead, we should be putting all of our efforts into making the United States far more energy efficient, and towards moving as rapidly as possible to transition to an economy powered by 100% clean energy - wind, solar, geothermal, etc. The latter is by far and away where the economic opportunities of the 21st century lie, particularly given the pressing need to slash our emissions of harmful fossil-fuel-generated pollutants.
Second, based on our experience in just the past few years, there certainly is no guarantee that there will not be a disastrous oil spill in the ecologically fragile Arctic region. Currently, for instance, InsideClimateNews is concluding a three-part series on "the biggest oil spill you've never heard of," of diluted bitumen, aka "dilbit," into the Kalamazoo River in July 2010. Part of the reason most people aren't aware of that oil spill is that it took place at about the same time as another, even worse, oil disaster was going on in the Gulf of Mexico. We'd also remind everyone what can happen when oil is spilled in a remote, cold-water region like Alaska - the Exxon Valdez spill was "one of the most devastating human-caused environmental disasters" in history.
Finally, even if Shell Oil oil operations in the Arctic never cause a spill, there are many other downsides to doing so. For instance, as NRDC has pointed out, oil-related seismic work "involves the use of underwater air guns that generate extremely loud noise - a single blast is 10 times louder than a rocket launch, and the blasts occur every 10 to 15 seconds for days, weeks and even months at a time." This noise can carry for "hundreds of miles and have been known to cause permanent hearing loss in marine mammals," as well as disruptions to these animals' "feeding, migration, social bonding, [and] predator avoidance." Finally, "They also can interfere with Native Alaskans' ability to hunt for these subsistence food sources, particularly the bowhead whale."
In sum, increased oil drilling in the Arctic is the wrong way we should be going as a nation for a number of reasons. We urge our government to move in a different direction.