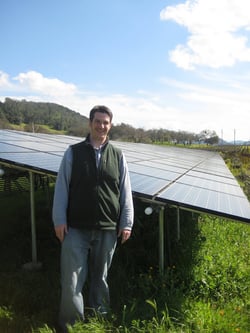 By Brian Mahar
One thing I observed about people in the wine industry is their passion. They feel a real connection in taking something from the earth and turning it into the wines we open for our special celebrations or just a Tuesday night. I think it's that connection that motivates vineyards to operate sustainably.
A prime example of this motivation for going solar is at ZD Wines. An early adopter of organic and sustainable practices, their pedigree comes from their founders – a pair of engineers who worked at the Jet Propulsion Laboratory and took their love of wine making from a hobby to a business.
I'm so glad they did, because they make my favorite wines and offer great hospitality at their winery. ZD even offers an Eco Tour, which explains their sustainable farming practices and makes its way to their solar array. They now run entirely on solar power and you can view real-time system performance online.
We were booked for an Eco Tour last year, but had a slight scheduling snafu. Fortunately, Jorge took us out to their array and let me poke around. And he took my wife for a barrel tasting, so we were both happy and walked away with a bottle of the Founder's Reserve Pinot Noir.
ZD's sustainable practices don't stop with solar. This year, as Andy was showing our friend Anna around, he pointed out the EV charging station for one of the founding family's electric vehicle. Their property is circled by fresh herb plants and even has a chicken coop. They're living proof that one can be successful in a competitive business environment while staying true to one's sustainable roots.
Part 1: Smart Economics
Part 2: Great Location