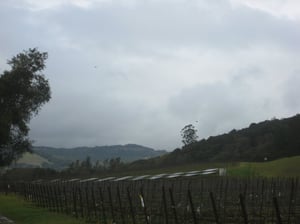 By Brian Mahar
I'm going to raise a subject those of us involved in the solar industry are hesitant to talk about: we shouldn't be pushing solar everywhere in America.
Understandably, we've been on the defensive because opponents of renewable energy take any chance they can get to say, "solar doesn't work here" or "wind won't work there." But there are plenty of places where it doesn't make sense to put up a fossil fuel power plant. Just because a solar panel won't be as effective in a woodsy neighborhood, for example, doesn't mean we as a nation shouldn't be investing in a strong solar industry.
That's because there are a LOT of great places for solar in America, in all 50 states. And Sonoma and Napa are prime locations. Grapes need plenty of sunlight and vineyards are usually clear of large trees and tall buildings that would block sunlight. Plus, vineyards typically own large tracts of land that are ideal for ground-mounted solar arrays.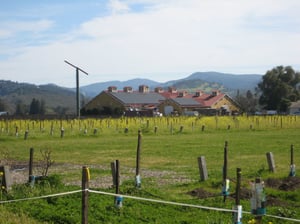 At Gundlach Bundschu, they cleared space specifically for their solar array because they understood the cost-saving benefits of solar energy. In addition to taking advantage of its land to produce clean energy, Gundlach produces a really creative Vintage Reserve series that features unique artwork on each year's label. They're in the midst of a six-vintage "American Landscape" series that features the artwork of six regional artists capturing the spirit of their region. I couldn't pass up a bottle of the 2007 Vintage Reserve because it featured the New England coastline.
But because vineyard land can be so valuable, other wineries are utilizing solar's flexibility to locate their systems elsewhere. Peju, Rodney Strong and V. Sattui (pictured below) choose roof-mounted arrays to take advantage of the large roof space that houses their wine-making operations. And Far Niente chose our client SPG Solar to implement the world's first large-scale floating PV array.
As they say for real estate, it's all about location, location, location. The same could be said for solar. Thankfully the United States has abundant locations for solar.
Part 1: Smart Economics
Part 3: Sustainable Motivation