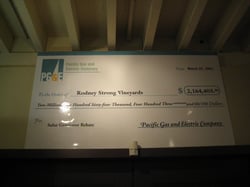 By Brian Mahar
In Napa and Sonoma, wine is big business. According to the Wine Institute, the California wine industry annually creates $61.5 billion in state economic impact. Therefore, solar energy must make business sense for it to be embraced so widely by such a successful industry.
Napa and Sonoma have the added benefit of being in California, which has some of the strongest solar incentives in the nation. Smart business owners have taken advantage of these incentives, in addition to the federal solar investment tax credit (and the complementary Section 1603 Treasury Program for the past three years), to lower their electric bills.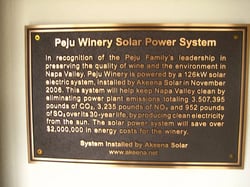 One great example is at Rodney Strong, where a giant check hangs on the wall boasting a solar generator rebate from PG&E totaling more than $2 million. Rodney Strong also offers the delicious A True Gentlemen's Port – ideal for closing out a fine meal or as a Father's Day gift.
The cost-savings are evident at many of the wineries we visited. Akeena Solar has done a particularly good job of reaching the wine market and leveraging that for marketing purposes. Cost-savings plaques hang at both V. Sattui and Peju (and I imagine many more) where tasters can see the solar cost savings.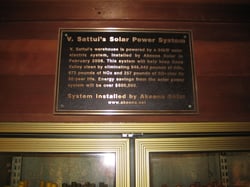 For some wineries, it's not just one and done. When I spoke to John Winkelhaus, VP of operation at V. Sattui, he told me that they were so pleased with the performance of their solar panels that they were considering installing even more.
That's great news, because V. Sattui is home to one of the most fun tasting rooms in Napa. They offer a variety of meats, cheeses, breads and other snacks that can be enjoyed with a bottle of wine at their picnic area. It's no surprise that such a successful winery would chose solar.
Part 2: Great Location
Part 3: Sustainable Motivation