Marketing Communications and Positioning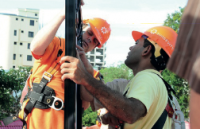 In a competitive environment, using communications to generate leads and position your company ahead of competitors can be the difference between losing or closing a sale. We have a range of tailored services for cleantech companies that want to add impact to their direct outreach to business customers.

Because we know the cleantech space, we can identify and engage the right mix of influential opinion elites, validators, and media that are critical to reaching your top customer prospects. We deliver on these core competencies in four ways:

B2B marketing support
From full-scale design services to choosing the right words to use, we translate ideas into content that tells your story. We can help you seamlessly integrate your marketing and media efforts to drive home your value proposition.

Thought leadership
We developed our Thought Leadership Program to put you in conversations and on stages that allow you to tell your story your way. We track over 300 editorial opportunities, conferences, webinars, and awards across two dozen industry verticals so that we can develop a custom blend of thought leadership opportunities that reach your target audience. From opinion pieces to keynote addresses and industry awards, we secure opportunities that let you stand out from your competitors.

Event planning and execution
Whether it's a project commissioning or a customer event, you need people who know how to manage details large and small. From planning the event program, to advancing the location, to handling media and VIPs, we can help you design and execute a flawless event that gets the attention of customers, investors, or decision makers. We can provide remote or onsite support across the United States and internationally.

Product launches
Product launches are a critical part of staying ahead of competitors. Great launches can take a number of forms, from a one-reporter exclusive to a multi-state rollout. We can design the right launch strategy that builds buzz for your product and generates leads.